'New 787 aircraft, but...' MoS Rajeev Chandrasekhar 'disappointed' with Vistara service, state of cabin
Union minister Rajeev Chandrasekhar expressed disappointment with Vistara Airlines after sharing a photo depicting a messy cabin on one of their flights. Despite a smooth London to Delhi flight, Chandrasekhar found the cabin's condition, littered with discarded water bottles and leftover food, disheartening.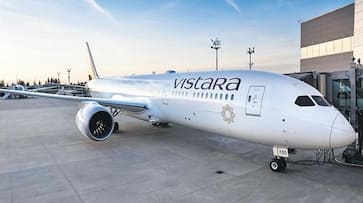 Union Minister Rajeev Chandrasekhar expressed his disappointment with Vistara Airlines, shedding light on a photo that showed a Vistara aircraft cabin littered with discarded water bottles and leftover food. Chandrasekhar, who had chosen a Vistara flight for his return from the AI Safety Summit in the UK, was disheartened by the state of the aircraft's cabin and emphasized that while the London to Delhi flight itself was smooth, the overall experience was tainted by subpar service quality and cabin cleanliness.
Taking to X, formerly known as Twitter, Chandrasekhar conveyed his sentiments: "So I decided to fly Vistara from London to Delhi last (night). Nice new clean 787 aircraft and very smooth flight - but saddened by service and state of the cabin - food and litter not the best way to welcome visitors to India or compete with other global carriers." He added the hashtag "disappointed."
In response to the minister's complaint, Vistara Airlines issued a statement expressing regret for the inconvenience Chandrasekhar had experienced. They noted that the situation did not align with the experience they aimed to provide to their customers. 
Vistara underscored its commitment to offering a superior experience to passengers at every touchpoint. The airline acknowledged that on this particular occasion, they had not adhered to their standard cleaning procedures, but they considered it an isolated incident. 
Vistara assured Chandrasekhar that they would bring this concern to the attention of the relevant department for a thorough review and necessary improvements, emphasizing the value they placed on customer feedback and their dedication to delivering an enhanced experience in the future.
However, by the time Vistara responded to the minister, multiple social media users had already shared their experiences.
Last Updated Nov 3, 2023, 5:07 PM IST