Month –long Simhastha Kumbh begins at Ujjain today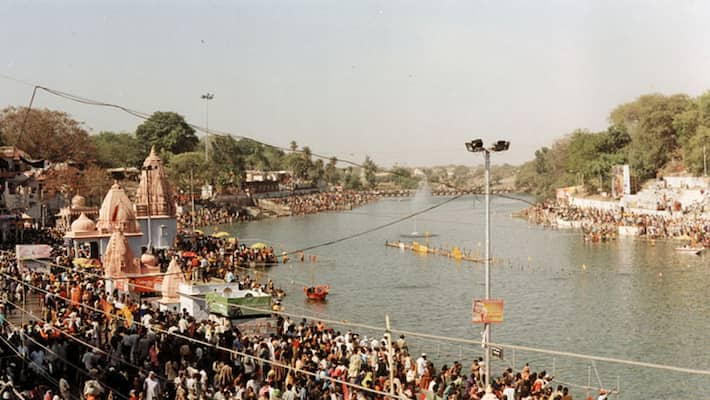 The month-long Simhastha Kumbh mela, one of then largest religious congregations of Hindus began early today with the arrival of Juna Akhara for the royal bath on the banks of Kshipra river for the holy dip.
Large number of devotees from different parts of the country have converged in the holy city for the Simhastha mela. This congregation is held after a gap of every 12 years at Ujjain, which is also the abode of Lord Mahakaleshwar, one of the 12 Jyotirlings in the country.
All the 13 Akharas of saints and seers will take dip one after another for which elaborate arrangements were made along the banks of Kshipra river.
Over five crore people are are expected to visit the holy city during this period. Madhya Pradesh Chief Minister Shivraj Singh Chouhan has said that it will be a "Green Simhastha".
"Over five crore pilgrims are expected to visit Ujjain and other holy places during the fair, for which huge security and logistical arrangements have been made, including shifting of police forces from various districts to Ujjain, one of the 12 'jyotirlingas' and the abode of Lord Mahakaleshwar," Chouhan said on the eve of the mela.
This year eunuchs have also set up their 'akhara' in the mela area and have successfully taken out their procession in the city which was accorded grand welcome by locals.
About 22,000 security personnel, including the state policemen, personnel from central forces and other departments have been deployed.
"At the time of Shahi Snan (royal dip) in Shipra river, 25,000 security personnel will keep a watch at the Mela venue," a senior police official said.
(Photo Credit: Madhya Pradesh Tourism Department)
Last Updated Mar 31, 2018, 7:01 PM IST