Tourism dept renames Hari Parbat hill as 'Koh-e-Maran'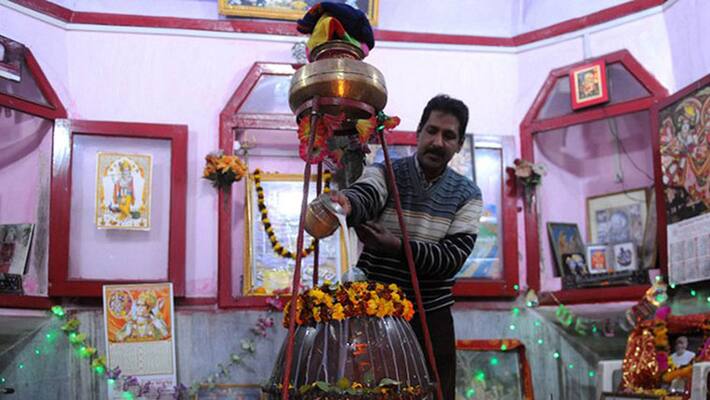 Condemning the incident, the displaced Kashmiri Pandits including Panun Kashmir, All State Kashmiri Pandit Conference (ASKPC) and All Party Migrant Coordination Committee (APMCC) demanded a probe into it. 

Earlier, the State Tourism Department issued advertisements in newspapers to celebrate Kashmir Fort festival from May 23 to 25 at Hari Parbat in Srinagar. In the advertisement, they also wrote Kohi-e-Maran in place of Hari Parbat that triggered the controversy.

"We are looking into the matter. Distribution of cards have been stopped", a minister said. However, Secretary Tourism Farooq Ahmed Shah did not respond to the calls. 

"We Condemn it. It clearly speaks that the state government is working towards total Islamisation of J&K," Panun Kashmir Chairman Ajay Chrungoo said. 

"Hari Parbat is an ancient name and renaming it by a Muslim name speaks about the radicalisation in Kashmir. The Government itself is involved in it and unfortunately BJP is in the power," he said. 

All State Kashmiri Pandit (ASKPC) President Ravinder Raina while condemning the incident said "Government should order probe into the matter." 

"It is a deliberate design to change the names of Hindu places in Kashmir", he said. 

"We condemn tourism department of J&K Government for the naming Hari Prabat Hill as Koh-e-Maran", All Jammu and Kashmir Displaced Youth Forum (AJKDYF) Chairman Pandit Sanjay Koul said. 

He said it is an attempt to erase Hindu history from Kashmir valley that too when BJP and PDP is in government. 

All Party Migrant Coordination Committee (APMCC) Chairman Vinod Pandita said    "We will hold a protest tomorrow to highlight the renaming of Hindu places by Islamic names under a conspiracy." 

"Is this the message the Government of India is giving to Kashmiri Pandits on their return and rehabilitation? First they propose colonies for displaced Kashmiri Pandits and J-K government disposes it and now official government machinery is involved in renaming Hindu places", APMCC Chairman said. 

Lambasting state government for renaming of Hari Parbat with Kohi-e-Maran by J&K Tourism department, President of Zeishta Devi Prabandak Committee (ZDPC) B B Bhat said "it is deep-rooted conspiracy...". 

KP Welfare Forum Kashmir (KPWFK) said that even the local people still call it as Hari Parbat then why is it necessary to create tension in the state.
Last Updated Mar 31, 2018, 6:41 PM IST