Tejas is India's light combat supersonic fighter jet.
It was inducted in Indian Air Force on July, 2016.
On Republic Day, Tejas will fly from Nal airbase in Bikaner and will reach New Delhi sky in minutes.
Tejas, the indigenous light combat aircraft (LCA), will make its official debut at the Republic Day parade of this year. Three Tejas jets will take off from Nal airbase in Bikaner and will reach New Delhi sky in minutes and create a Vic formation at the parade. 
About the Tejas: 
This light combat supersonic fighter jet is a single-seat, lightweight, single-engine, high-agility aircraft that had more than 3,000 test flights before getting inducted in the Indian Air Force (IAF) in July 2016. This aircraft has been designed by Aeronautical Development Agency (ADA) of the Indian Department of Defence and manufactured by Hindustan Aeronautics Limited (HAL) and proves India's self-reliable in creating combat weapon.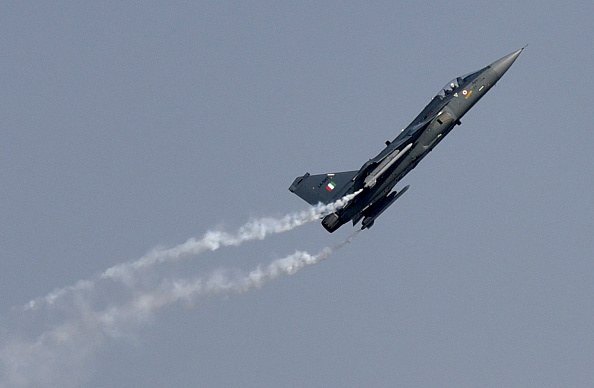 In terms of weapons, Tejas can carry air-to-air, air-to-ground, and anti-ship missiles and also precision-guided ammunitions, bombs and rockets. Other than this electronic warfare, surveillance, targeting, drop tank reconnaissance, or training pods also can be carried by this aircraft. 
The making of Tejas: 
However, it took more than three decades to build this combat aircraft, and Tejas has its fair share of defects and issues that question India's defence manufacturing capability. 
 
Tejas is an ambitious project for India's defence aviation sector that was sanctioned in the year 1983 and aimed at replacing the infamous MiG-21. But, it failed to meet multiple deadlines owing to various circumstances including the US sanctioned after the 1998 nuclear test. The delays also added up to the cost of the aircraft that was sanctioned for 560 crores, but the development cost added upto 13,390 crores by 2015.  
 
Interestingly, though it has been claimed as India's indigenous aircraft, however, around 25% of the core components that make it a combat jet is imported from abroad. Also, it was Kaveri, India-made engine, that was to power the current Mk 1 version of the Tejas but since it failed the makers used a USA engine to power it. So, perhaps Tejas is not that indigenous as it has been made to believe.
Despite this, LCA Tejas is still not equipped enough to compete with indigenous fighter planes made by foreign countries. In terms of payload capacity, speed and value for the price, Tejas, still fails to impress the export market of fighter planes the central government is trying to aim at. 
The government of India is determined to continue with this project and it is hoping to overcome the issues of Mk 1 with an advanced Mk II version which is expected to debut in 2025. For the engine, DRDO has tied up with French engine maker Snecma to revive Kaveri as well as certify the same. 
Test flights of Tejas: 
The first flight of Tejas took place in 2001, five years after its scheduled time. Since its first flight, it took 12 years to get the initial operational clearance after meeting basic parameters.  
Induction in Indian Air Force:
Tejas got inducted in IAF on July 2016 but, the Indian Navy rejected the naval version of the same by sighting weight-related issues.
 
IAF revealed that in this year's Republic Day parade 35 aircraft will participate including Jaguars, SU 30, MI 35 in combat aircraft and Rudra and LCH Dhruv in light combat helicopter.