Supreme Court hears Arnab Goswami bail plea in suicide case
The Alibaug Court on Tuesday reserved orders in the revision application moved by the State seeking police custody over Goswami.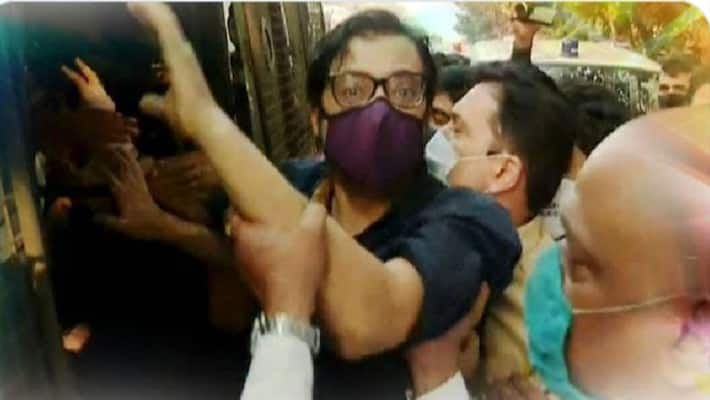 New Delhi: The Supreme Court is hearing a special leave petition filed by Republic TV Editor-in-Chief, Arnab Goswami seeking interim bail in the case concerning the suicide of interior designer, Anvay Naik and his mother Kumud Naik.
Goswami has challenged a Bombay high court order of November 9 which had rejected the bail plea while asking him to move Sessions court for regular bail.
The plea by Goswami before the Supreme Court states that his arrest was "illegal, mala-fide and politically motivated as evident from the multifarious proceedings initiated against him, his news channels, Republic and Republic Bharat at the behest of the political dispensation."
Harish Salve is making arguments for Goswami before a Bench of Justices DY Chandrachud and Indira Banerjee. Kapil Sibal is appearing for the Maharashtra Government.
SC asked Maharashtra whether Arnab Goswami's case requires custodial interrogation, said "we are dealing with issue of personal liberty."
SC said if constitutional court don't interfere, "we are travelling to the path of destruction undeniably."
"Our democracy is extraordinarily resilient, Maharashtra government must ignore all this," the bench added. 
Meanwhile, the Sessions Court, Alibaug on Tuesday reserved orders in the revision application filed by the Maharashtra Police challenging an order denying them police custody over Republic TV's editor-in-chief, Arnab Goswami and the other accused, who were arrested in connection with the 2018 Anvay Naik suicide case last week Bar and Bench reported.
Goswami, Shaikh and Sarda were arrested on November 4 after police in Raigad reopened a case involving the death of interior designer Anvay Naik and his mother Kumud Naik at their home in Alibag in May 2018.
According to police, the Naiks committed suicide over alleged non-payment of dues by Goswami's channel and companies of the two other men.
Last Updated Nov 11, 2020, 1:58 PM IST