Sikkim Flash Floods: 14 people dead, 102 missing, 26 injured
The Sikkim government has declared the flash flood a disaster under the Disaster Management Act. The Army rescued one of the missing soldiers, bringing hope amidst the crisis, but extensive damage to infrastructure, including 14 collapsed bridges, poses further challenges.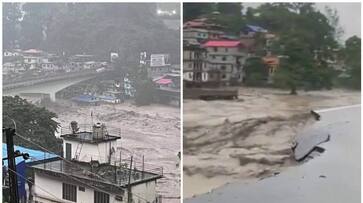 The Sikkim government has confirmed that 14 people have died, 102 are missing and 26 injured in the flash floods that struck the state following a cloudburst. In the early hours of Wednesday, a cloudburst wreaked havoc, causing the swirling waters to engulf portions of a dam in Chungthang, the largest hydropower project in the state. This unfortunate event exacerbated the flooding downstream. Responding to this catastrophe, the Sikkim government has officially declared it a disaster under the Disaster Management Act.
Amidst the grim circumstances, a glimmer of hope emerged on Wednesday evening as the Army shared a heartening update. They reported that one of the 23 soldiers who had gone missing near Singtam town, Bardang, has been successfully rescued, and his condition remains stable.
The devastation resulted in extensive damage to infrastructure, with 14 bridges suffering collapses. Among them, nine were under the Border Roads Organisation, and five were under the State government. There are growing concerns about the safety of over 3,000 tourists who may be stranded.
Approximately 14 workers, who were stationed at Teesta Stage 3 dam in Chungthang, are currently trapped in the tunnels, following the partial destruction of the dam.
Reports of injuries and missing persons have poured in from various areas, including Chungthang in Mangan district, Dikchu, Singtam in Gangtok district, and Rangpo in Pakyong district, as confirmed by an official statement.
The flash floods in Sangkalan and Toong in Mangan district have disrupted mobile networks and broadband connections in Chungthang and most of North Sikkim due to the destruction of fiber cable lines. Moreover, the police station in Chungthang has been obliterated.
In response to the crisis, the State government has requested three additional platoons of the National Disaster Response Force (NDRF), and the central government has granted approval. Currently, one NDRF platoon is already engaged in relief and rescue efforts in Rangpo and Singtam towns. One of the three additional NDRF platoons will be airlifted to Chungthang to aid in the ongoing rescue operations. Food and civil supplies will also be dispatched to Chungthang once weather conditions permit air connectivity, as confirmed by a state government official.
To facilitate the import of essential supplies from Siliguri, the Indian Army and the National Highways & Infrastructure Development Corporation Ltd will construct Bailey bridges, as stated by Sikkim Chief Secretary VB Pathak.
In an effort to assist those affected, the State government has established 18 relief camps in Singtam, Rangpo, Dikchu, and Adarsh Gaon, which are the areas most severely impacted by this calamity.
Last Updated Oct 5, 2023, 7:42 AM IST