Shocking! Fossil found in Jaisalmer a 180-million-year old dinosaur egg, claims scientist
A remarkable discovery of a 180-million-year-old dinosaur egg fossil in Jaisalmer, Rajasthan, adds to the region's growing significance as a site for prehistoric findings.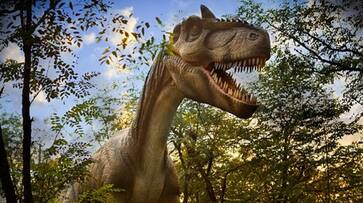 In a remarkable discovery, a scientist has reported finding a dinosaur egg fossil in the hills of Jethwai-Gajroop Sagar in Jaisalmer, Rajasthan. This significant find, believed to be approximately 180 million years old, was uncovered on a Saturday and is located in the same vicinity where fossilized remains of a herbivorous, long-necked dinosaur, dating back 167 million years, were discovered in 2018.
The scientist behind this discovery, Dr. Narayan Das Inkhiya, shared insights into how he came across the fossil and highlighted its immense importance. He told NDTV, "This could well be a dinosaur egg fossil nearly 180 million years old. It was discovered in this area of Jaisalmer, where in 2018 the fossil of a herbivorous dinosaur was also found."
The egg fossil, weighing 100 grams and measuring approximately 1 to 1.5 inches in length, has been sent to a laboratory for comprehensive examination and analysis.
Experts in the field suggest that this egg may belong to the Mesozoic Era, a fascinating period in Earth's history often referred to as the "Age of Dinosaurs." The Mesozoic Era is further divided into three significant periods: the Triassic, Jurassic, and Cretaceous periods, each characterized by distinctive geological and biological events.
It's worth noting that the renowned Thar Desert in western Rajasthan has emerged as a notable site for dinosaur discoveries, further contributing to our understanding of prehistoric life on Earth.
Last Updated Sep 13, 2023, 6:28 PM IST