Sanatana Dharma row: UP saint announces 10 cr reward for 'beheading' Udhayanidhi Stalin; burns poster (WATCH)
Tamil Nadu minister Udhayanidhi Stalin - at the centre of a storm over his "sanatana dharma must be eradicated" remark - on Monday declared "I will repeat the same thing again and again".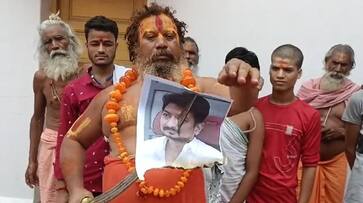 Tamil Nadu Chief Minister MK Stalin's son, Udhayanidhi Stalin, has faced widespread criticism for his controversial remarks regarding Sanatana Dharma. In response to these remarks, Ayodhya saint Paramhans Acharya has announced a cash reward of Rs 10 crore for anyone who beheads Udhayanidhi Stalin, and he symbolically beheaded an effigy representing the leader.
Paramhans Acharya emphasized the antiquity of Sanatana Dharma, stating that it has roots dating back millions of years and has been in existence for millennia. He noted that some religions emerged around two thousand years ago, but there was a time when Sanatana Dharma was the sole religion on Earth. He stressed that Sanatana Dharma is timeless, without a beginning or an end, and it has never been destroyed nor can it ever be. He issued a warning that anyone attempting to harm or destroy Sanatana Dharma would face consequences.
Meanwhile, Udhayanidhi Stalin embroiled in controversy over his "sanatana dharma must be eradicated" statement, reiterated his stance on Monday, stating, "I will repeat the same thing again and again." He clarified that his comments were directed at condemning caste differences and encompassed all religions, not just Hinduism. He accused the BJP of misrepresenting his words in light of growing opposition unity.
"I am ready to face whatever cases they file against me. BJP is scared of the INDIA alliance and to divert that they are saying all this..." he said.
The comments from Udhayanidhi Stalin come amid intense criticism from the BJP, with senior leaders referring to him as "Udhayanidhi Hitler" and labeling the INDIA alliance, of which his party, the DMK, is a member, as "anti-Hindu." The DMK is in power in Tamil Nadu in alliance with the Congress.
The controversy surrounding the "sanatana dharma must be eradicated" remark has escalated, with Union Home Minister Amit Shah leading the BJP's criticism, accusing the INDIA alliance of "hating Hinduism" and launching an "attack on our heritage." Other BJP leaders, such as Basavaraj Bommai and Rajnath Singh, have also condemned Udhayanidhi Stalin's comments.
While some Congress leaders have distanced themselves from Udhayanidhi Stalin's remarks, stating they are his "personal views," others, like minister Priyank Kharge in Congress-ruled Karnataka, have voiced support, emphasizing that any religion not granting equal rights is akin to a disease.
Meanwhile, Trinamool Congress, a key member of the INDIA alliance led by Mamata Banerjee, has opted not to back Udhayanidhi Stalin and the DMK. Mamata Banerjee urged respect for all religions, emphasizing that religious sentiments should not be harmed.
"I respect the people of Tamil Nadu and South India. But my humble request to them is that to respect all as every religion has separate sentiments," she said.
Last Updated Sep 4, 2023, 9:48 PM IST