Suffer thousands of crore in losses due to Cauvery crisis yearly: Farmers
Farmers of the Cauvery delta region have informed SC committee that they were incurring a loss of around Rs 1,000 crore to Rs 2,500 crore due to the Cauvery issue
The team was formed by the Supreme Court to assess the situation in the Cauvery basin in both the states.
The 14-member committee has been in the state since Sunday following its two-day trip to Karnataka.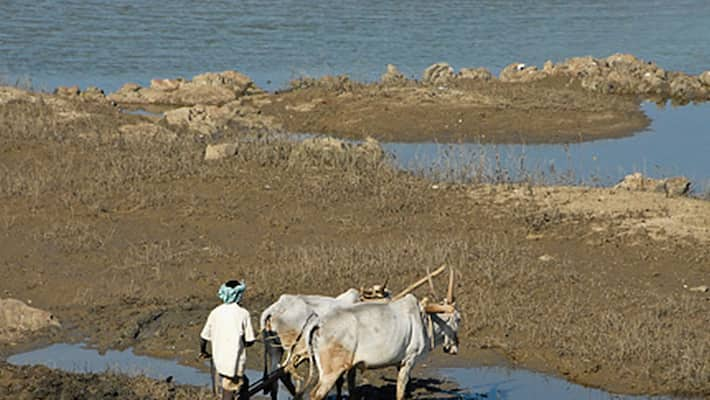 The team, headed by GS Jha, Chairman, Central Water Commission (CWC), visited Karunkanni, Killukudi and Kilvelur villages in the district on Monday. Nagapattinam District Collector S Pazhanisamy and other officials accompanied the team. Farmers showed the team members dry paddy fields and withered crops and explained the need for Karnataka to immediately release more water for their requirements.Jha later told reporters at Karunkanni that the committee would submit a report on the ground realities to the Supreme Court before October 17.
Arupathy Kalyanam, general secretary of the Federation of Farmers' Associations of the delta districts, submitted a memorandum to the committee.He said though Mettur Dam was opened for irrigation on September 20, most of the tail-end areas had not received water yet. "As a result, farmers are not able to irrigate even the direct-sown paddy fields," he said.
Stating that normally, samba cultivation is completed before the end of September every year, he alleged that for the past three decades, Karnataka had taken "complete control" of the Cauvery flows.During most years, the delta areas did not receive adequate water from Karnataka, resulting in samba cultivation being postponed to October-November. So, when the northeast monsoon becomes severe, paddy crops face inundation in about 4 lakh acres, Kalyanam said. "Due to this crisis, the delta farmers have been incurring a financial loss of around Rs 1,000 crore to Rs 2,500 crore every year," he said in the memorandum.
Kalyanam said this year, around 4.25 lakh acres of direct-sown paddy fields in Thanjavur, Nagapattinam and Tiruvarur districts were affected as Karnataka had refused to release adequate water. In addition, samba transplantation has been completed in 40,000 acres and the crops were awaiting adequate water flows, said Kalyanam. On Sunday, the team had inspected Mettur Dam, located about 150 km from Coimbatore. It had taken stock of the situation, including the water level, inflow and discharge of Mettur Dam.
Last Updated Mar 31, 2018, 7:03 PM IST