Rohith Vemula's brother to embrace Buddhism today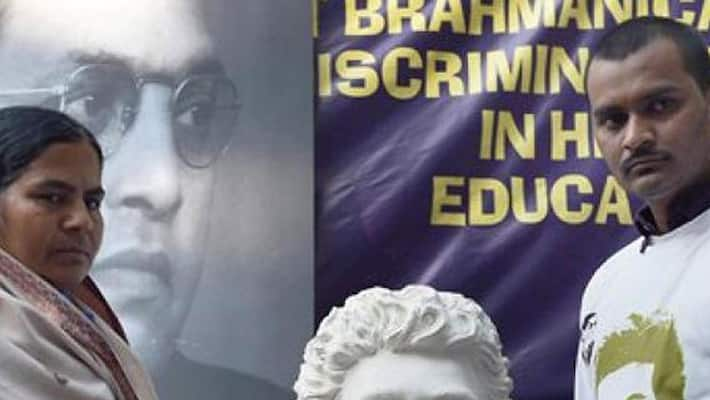 On the occassion of Dr BR Ambedkar's 124th birth anniversary Dalit Phd scholar Rohith Vemula's mother and brother are going to embrace Buddhism today.
According to a report in the Indian Express, the conversion ceremony of Vemula's mother Radhika and brother Naga Chaitanya will happen in Mumbai, in the presence of Prakash Ambedkar, the grandson of Baba Saheb.     
Rohith's family members and friends will also participate in the ceremony.  
In an interview with the newspaper Rohith's brother Raja Vemula said, "My brother Rohith was a Buddhist at heart although he did not convert. He took his own life because as he was discriminated because he was a Dalit. We performed his last rites according to Buddhist traditions, honouring his love for Buddhism. Rohith used to talk of Buddhism a lot. He had also written a letter to the Vice Chancellor of Hyderabad university about how Dalits are discriminated against in the campus. My mother feels that we should honour Rohith by embracing Buddhism. We are against the caste system in Hinduism and have, therefore, decided to embrace Buddhism which does not have such an oppressive system of castes."
The conversion would comprise of 'Deeksha' ceremony by Buddhist monks alongwith other programme to mark the anniversary of Dr Ambedkar.
Rohith, had committed suicide on January 17 in a hostel room at the Hyderabad Central University, after he along with four of other students were suspended over alleged involvement in campus violence.
It may be noted Baba Saheb, was a born Hindu and had converted to Buddhism in 1956 to renounce casteist practices among Hindus.  
The nation is paying homage to Baba Saheb Ambedkar on his birth anniversary. Congress leader Mrs Sonia Gandhi today paid her homage to the man who had drafted the Indian constitution.   
Last Updated Mar 31, 2018, 6:44 PM IST