Rift over poster begins in UP: 'Missing' poster of Smriti Irani pasted in Amethi
A couple of days ago, migrants and labourers staged protests, raising their voice against Sonia Gandhi and Congress in Amethi and Raebareli. They were demanding their return train fare as promised. Congress claimed that the BJP was plotting against the Congress through migrants.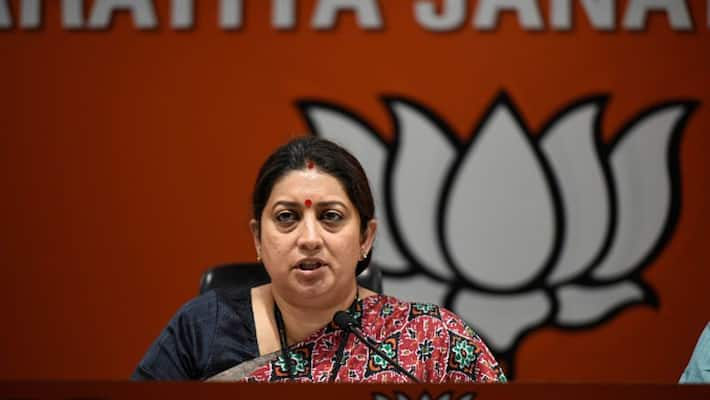 Lucknow: After Madhya Pradesh and Rajasthan, poster war over "missing" Members of Parliament has now begun in Uttar Pradesh. The fresh poster-related war in Amethi has led to a rift and controversy. Several posters pasted in Amethi claimed the concerned Member of Parliament and Union minister of the Modi Cabinet, Smriti Irani, is missing in Amethi.
Apparently, Congress has harped on the posters and raised questions to the BJP. Congress said that amidst the corona pandemic the MP was not available in her constituency. Congress used the opportunity to draw light to the plight of migrants who have returned and are struggling for their livelihood without jobs at this point. The party also stated that the situation compelled migrants to stay home without food during the lockdown.
Also read: Singapore confirmed 544 new #COVID19 cases on Tuesday, its health ministry said, taking the city-state's total to 35,836
They went on to state that the BJP leader who made promises during the election last year, stating she would be present round the clock in the constituency (Amethi) now has failed to fulfil her obligations.
The Congress said that in this time of crisis, the party stood with the people in the plight of migrants and people of Amethi.
Congress MLA Deepak Singh said "lethal coronavirus is spreading in the district with 141 cases on May 19 alone. There is resentment against the MP in public, and they sought answers on the whereabouts of the MP through the poster.
This is not the first time that a poster war has occurred. It has already taken place several times in Amethi, the epicentre of Congress' politics. Even when former Congress president Rahul Gandhi was MP in Amethi, he has had to face the ire of people through poster wars against him with the opposition at the time stating that he is missing from the Congress bastion.
But now the tables have turned. Congress lost the election and BJP's Smriti Irani is now the sitting MP in Amethi. Seems like the Congress does not want to miss any opportunities to launch a scathing attack on the BJP.
Last Updated Jun 2, 2020, 7:20 PM IST