Republic Day 2023: Google Doodle shows elements of parade with intricate artwork; See video
Republic Day 2023: The Google Doodle features the work of Ahmedabad-based guest artist Parth Kothekar, Google said. The artwork from intricately hand-cut paper shows various elements of the Republic Day parade, such as the Rashtrapati Bhavan, the India Gate, the CRFP marching contingent, and motorcycle riders.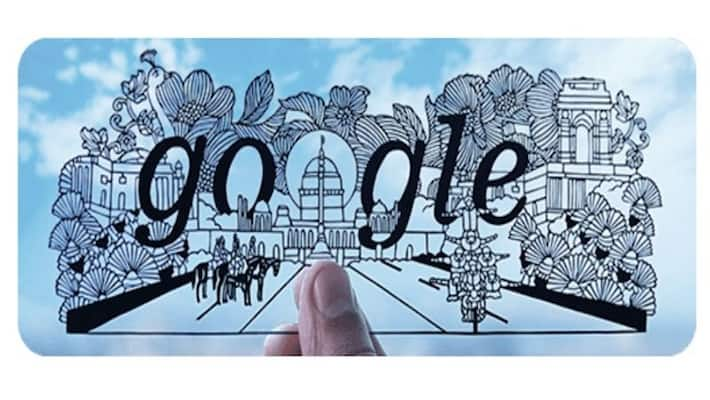 Google Doodle is celebrating India's 74th Republic Day today. The blue-themed drawing depicts India's Kartavya Path, a wide sidewalk outside Rashtrapati Bhavan where India annually parades its military power and displays its culture on January 26. 
Today's Google Doodle was sketched by guest-artist Parth Kothekar. The Gujarat-based artist is famous for digital illustrations. He makes his art pieces from intricately hand-cut paper. He lives in Ahmedabad. The illustration shows the Rashtrapati Bhavan, India Gate, the CRPF's marching unit, and motorcycle riders, which are all elements of the parade each year. 
Also Read | Republic Day 2023: Kartavya Path to witness parade of culture, military might; to begin shortly
On January 26, 1950, India declared itself a sovereign, democratic, and republic state. India's laws and constitution were adopted by its government and people. Every year on Republic Day, India has an extravagant parade in honour of its dead troops, which is attended by the president and prime minister of the nation as well as other dignitaries from outside. 
Also Read | 9 Rafales to Shramyogis in VIP seats: 9 new things you will see at Republic Day 2023 parade
Egypt's President Abdel Fattah El-Sisi, who is the chief guest for this year's Republic Day, will witness the magnificent parades by regiments of the Indian Army, Navy, the Air Force. This year's Republic Day is very significant for India not only because the country celebrates its 74-year of journey as vibrant democracy but also assumed the G20 presidency.
Also Read | Republic Day 2023: When and where to watch the grand parade online?
Last Updated Jan 26, 2023, 9:59 AM IST