Ram Temple Bhoomi Pujan: PM Modi to be in Ayodhya for 3 hours; here is full schedule
Here is PM Narendra Modi's full schedule for Ram Temple's Bhoomi Pujan in Ayodhya on August 5. Modi will reach Ayodhya via Lucknow.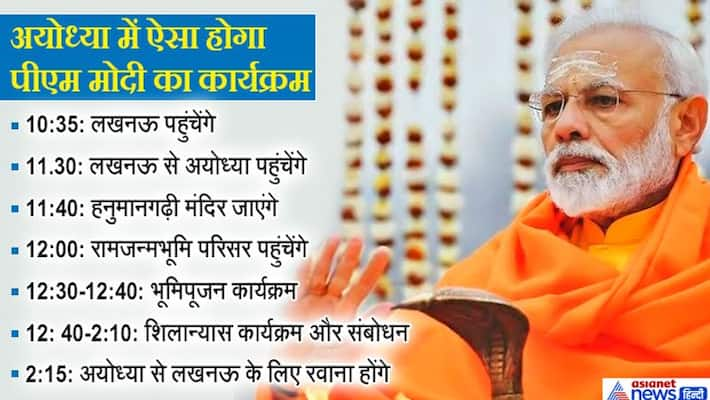 Ayodhya: Prime Minister Narendra Modi will be performing the Bhoomi Pujan (groundbreaking ceremony) of the Ram Temple in Ayodhya tomorrow (August 5). With that, the construction work for the Ram Temple will commence on Wednesday. PM Modi will stay in Ayodhya for three hours for the grand ceremony. All the preparations for the Bhoomi Pujan are now complete. The events had already started from Monday morning (August 3). Also, on August 5, PM Modi is likely to address the nation for one hour.
PM Modi will be first going to the Hanuman Nagri temple upon reaching Ayodhya. There, he will take Hanuman's blessings for the Bhoomi Pujan. It is believed that without Hanuman's permission, no work of Lord Ram is done. So, PM Modi will first take the blessings of Hanuman.
Here is PM Modi's full schedule in Ayodhya on August 5
1. PM Modi will reach Lucknow's Amausi airport at 10.35 am via a special aircraft.
2. From Amausi, PM Modi will leave for Ayodhya via a helicopter. In Ayodhya, the PM's helicopter will land at Saket University's helipad at around 11.30 am.
3. From the helipad, PM Modi will reach Hanuman Nagri at 11.40 am.
4. At Hanuman Nagri, Modi will perform a puja for 10 minutes and then leave for Ramjanam Bhumi at 12 noon.
5. He will do darshan of Lord Ram at 12.10 pm. Then, he will be planting a sapling.
6. The Bhoomi Pujan will start at 12.30 pm and is likely to last for 10 minutes.
7. Then, Modi will be involved in a public event from where he will address the nation.
8. It is being said that RSS chief Mohan Bhagwat may also address the nation.
9. The prime minister will leave for Saket helipad at 2.05 pm.
10. At 2.15 pm, Modi will leave via helicopter first for Lucknow and then from Lucknow to New Delhi.
Last Updated Aug 4, 2020, 1:49 PM IST