Ram Temple Bhoomi Pujan: Diwali-like atmosphere in Ayodhya; 4 lakh ladoos for prasad
With the Bhoomi Poojan of the Ram Mandir only a few days away now the whole city of Ayodhya is in a celebratory and festive mood. One lakh ladoo packets with four lodoos each in one packet are being prepared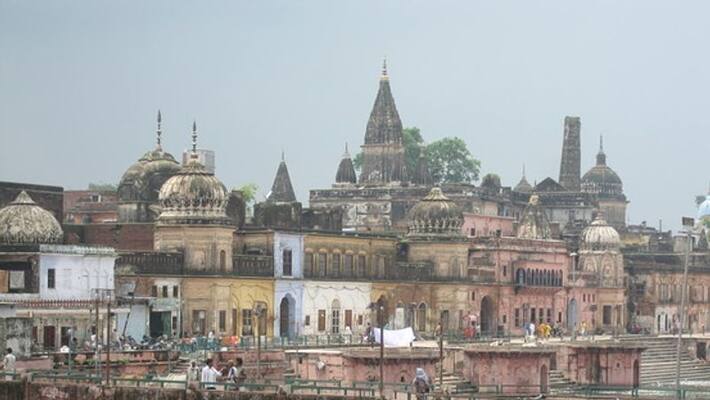 Ayodhya: The countdown for the Bhoomi Poojan (groundbreaking ceremony) of the Ram Mandir has begun in Ayodhya. Prime Minister Narendra Modi will visit Ayodhya for the Bhoomi Poojan. It has been a long wait of 500 years for the city of Ayodhya, hence the Sriram Janmbhoomi Teerth Kshetra Trust is trying to create a Diwali-like festive environment in the city.The crowd has started swelling for the Sarayu aarti. The trust will get 1 lakh prasad packets prepared. The security agencies are on high alert following the inputs that there could be terrorists' strikes on that day (August 5).
This is the programme of the rituals
Ram Janmabhoomi Tirtha Kshetra Trust member Dr. Anil Mishra informed that a team of Pandits will start the rituals and worship programmes in the Ram Janmabhoomi campus from August 3. The rituals will begin with a Ganesha pooja. There will be Ramarcha on August 4 and worship and rituals will start at the sanctum sanctorum from 8 AM on August 5. The ceremony will be conducted by 11 scholars from Kashi. This team will get PM Modi to complete the Bhoomi Pujan programme in the midst of Vedic chanting. According to Dr. Mishra, all three days of worship and rituals will be arranged in conjunction with Ram Janmabhoomi Teerth Kshetra Trust. One packet will have 4 ladoos.  The work has been distributed department-wise to create a Diwali-like atmosphere on the arrival of PM Modi. The district magistrate is monitoring day to day progress of the work.b The path that Modi will take on his way to Hanumangarhi, the houses on both sides of that road have been painted yellow and the pictures related to Ram Katha are being readied. Dr. Mishra informed that, for the ritual programme of Ram Temple, one lakh packets of Prasad of four ladoos each will be distributed.
Foolproof security for PM
Security has been tightened for PM Modi's visit after there were inputs from the intelligence agencies that there could be a terrorist attack. Checking is being conducted at the city borders. Modi will land on the helipad made at Saket Degree college.
Last Updated Jul 30, 2020, 2:23 PM IST