Rajya Sabha passes Citizenship Amendment Bill 125 – 105
The Rajya Sabha passed the controversial Citizenship Amendment Bill today (December 11) 125-105. The debate on the bill went on for 8 hours with Union home minister Amit Shah tearing apart the allegations of the opposition into shreds.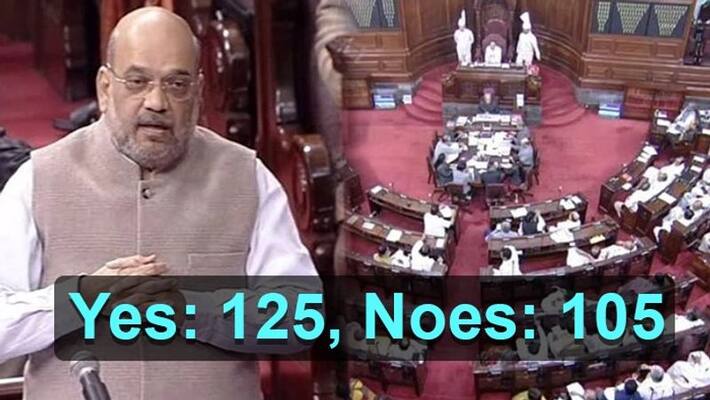 Bengaluru: It's a historic moment in Indian history as the Rajya Sabha passed the Citizenship Amendment Bill 125-105. Two days earlier the Lok Sabha had passed it 311 – 80. 
With this, the bill is all set to become a law. 
As the Union home minister tabled the bill earlier this afternoon, the debate on the bill went on for 8 hours, with the opposition leaving no stone unturned to paint it with a communal brush. 
PM Narendra Modi hailed the passage of the bill. 
But Sonia Gandhi, the AICC chief, called it a black day. 
Earlier, speaking in response to the allegations levelled by the opposition parties, Union home minister was at his fiery best as he gave pinpointed and precise answers to dismantle their arguments. 
On the issue of leaving out Muslims from Pakistan, Afghanistan and Bangladesh, he said, "In countries which have declared their official religion to be Islam, how can Muslims be persecuted religiously?" 
He also embarrassed the Congress for not appreciating Modi government's move to accommodate all other religions except Muslims. 
He said, "The Congress's definition of secularism is very shallow. Is secularism only about Muslims? Are Muslims the only minorities?" 
The home minister also emphatically downplayed the fearmongering among Muslims. 
He said, "No Muslim in India needs to worry due to this bill. Don't get scared if someone tries to scare you. This is Narendra Modi's government working in accordance with the constitution and minorities will get full protection." 
The minister was also riveting in his reply on the charges of Nazi ideology being followed in India. 
He said, "India is and will always be a democracy." 
The home minister also had this to say about Rohingyas not being welcomed in India. He said, "Rohingyas don't come to India directly. They go to Bangladesh and then come to India." 
At an obvious jibe against the Shiva Sena which said it would vote in favour of the bill in the Rajya Sabha only after certain points are answered, the home minster replied, "There are some parties which change colours for power. They change overnight. I don't know what happened overnight." 
On the issue of Sri Lankan Tamils not being included, he said, "8-9 lakh Tamils from Sri Lanka were given Indian citizenship in the past." 
On the allegations of the policies of Narendra Modi being anti-Muslim, he said, "None of our policies, be it abrogation of 370 or triple talaq are anti-Muslim." 
The home minister also wondered as to why Congress members were speaking on similar lines of Pakistan PM Imran Khan. 
Last Updated Dec 11, 2019, 9:36 PM IST