Rajasthan political crisis: Sachin Pilot snubs Congress again, skips CLP meeting
As Sachin Pilot and another 16 MLAs kept away from the meet on Tuesday morning, he had skipped the party meeting on Monday as well. There is speculation that the Congress is mulling disciplinary action against some of them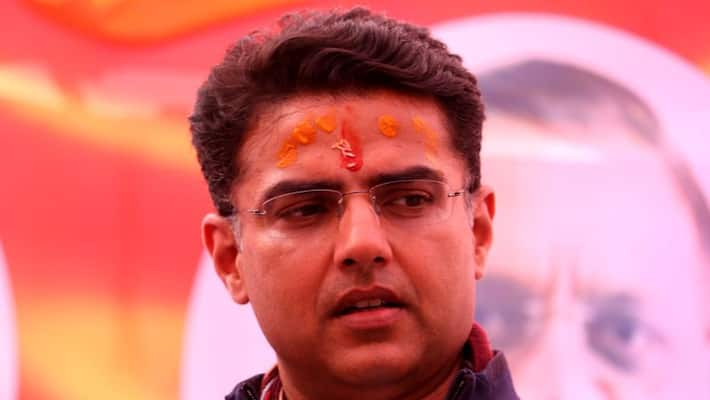 Jaipur: Rajasthan deputy chief minister Sachin Pilot skipped the meeting of the Congress Legislature Party (CLP) for the second time. Many Congress leaders had appealed to him and his MLAs to attend today's (July 14) CLP meet.
According to sources, the deputy chief minister is yet to turn up for the meeting. Chances are slim of him attending the meeting, which started at 10 am on Tuesday. Pilot had declined to turn up for the first meeting held on Monday.
Meanwhile, the top leadership of the Congress, including Rahul Gandhi, Priyanka Gandhi Vadra, Ahmed Patel, P Chidambaram and KC Venugopal have spoken to Pilot several times.
"Congress Legislative Party meeting is being conducted again and again to send messages to Sachin Pilot that there is still time for him to come. The party's top leadership still has flexibility for him. Decision will be taken after Tuesday's meeting over further course of action," news agency ANI tweeted citing sources.
Even as the Congress claimed that the BJP was demanding for a floor test, Rajasthan BJP president Satish Punia clarified stating, "Congress has been claiming that their leaders are united but it's clear that there are internal disputes, because of which, Sachin Pilot had to leave the party after facing humiliation. At present, we are not demanding floor test."
Earlier in the day, Rajasthan Congress in-charge Avinash Pande tweeted in Hindi and appealed to Pilot to attend today's meeting.
"I appeal to Sachin Pilot and to all his fellow MLAs to attend today's meeting of the legislature party. While expressing your faith in the ideology and values of the Congress, please make your presence felt and strengthen the hands of Mrs Sonia Gandhi and Mr Rahul Gandhi," said Pande in the tweet.
With Pilot refusing to accept truce, Congress' crisis seems to be worsening in Rajasthan. Late on Monday night, the Pilot camp released a video of around 15 of his loyalist MLAs. Pilot had on Sunday claimed he had the support of 30 MLAs and the Gehlot government was in a minority.
Last Updated Jul 14, 2020, 12:53 PM IST