Raj Thackeray is new National Security Advisor
Prime Minister Narendra Modi has decided to show National Security Advisor Ajit Doval.
Raj Thackeray of the Maharashtra Navnirman Sena (MNS) has been appointed as the NSA chief.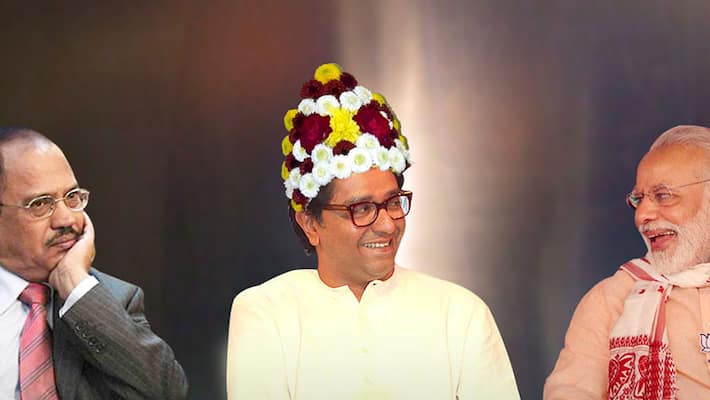 In a surprise move, Prime Minister Narendra Modi has decided to show National Security Advisor Ajit Doval the door. Replacing him is the high-profile Raj Thackeray of the Maharashtra Navnirman Sena (MNS). In strategic circles, if Doval was considered a hawk, Thackeray is referred to as the tiger who cut his teeth overseeing the digging of the Wankhede stadium pitch ahead of an India-Pakistan cricket match, back in the 90s. 
"Mr Raj Thackeray brings to the table his immense experience in handling matters of strategic importance. His men have engaged in fights on the Maharashtra-Karnataka border and he has displayed his combativeness while dealing with Bihari cab drivers in Mumbai. He did not get cowed down even by Arnab Goswami. His out-of-the-box thinking will help us deal with Pakistan more effectively,'' said a statement from the Cabinet secretariat.
Pakistan responded to the new appointment almost immediately. Media reports from Rawalpindi, the headquarters of the Pakistan Army, said that Pakistan has already chosen its targets in India in the event of a strike. Thackeray, not one to lose a moment, declared his targets as well. 

"Fawad Khan is our target number one. Our second strike will be on Mahira Khan, who Shah Rukh Khan made a Raees. And also singers Rahat Fateh Ali Khan and Ghulam Ali,'' said Thackeray, adding his decision will not be music to Pakistan's ears.
Several Indian women fans of Fawad, upset at Thackeray's first target, started an online campaign on change.org, to urge him to spare the actor. "Instead of `Ae Dil Hai Mushkil', it has become `Ae Thackeray ka Raj Hai Mushkil','' they wrote. Thackeray has reportedly suggested that if director Karan Johar got Fawad's lines re-dubbed and replaced with `Bharat Mata ki Jai', he could consider sparing the actor. 
"It is possible, nothing is impossible, I did not allow even James Bond to come within kissing distance,'' said Censor Board chief Pahlaj Nihalani, threatening that if Johar does not comply, Nihalani can get an in-house dubbing artist to get it done before release. If the diktat is carried out, this would mean that irrespective of the scene and the moment in the film, Fawad's character will only say `Bharat Mata ki Jai'. 
The authorities are also finding out that if Fawad has any romantic interest in Aishwarya Rai in the movie. "We will not allow a Pakistani to be interested in a former Miss India. This is not sanskari,'' said Nihalani.
The MNS thinktank has also suggested that actor Nawazuddin Siddiqui too should be attacked for bearing a name similar to Pakistan Prime minister Nawaz Sharif. As conclusive proof of his shaky patriotic credentials, its members have submitted a copy of `Bajrangi Bhaijaan' in which Nawazuddin played a Pakistani journalist. Thackeray is said to be very impressed with the meticulous research work done by the MNS in protecting India. 
As part of the mind games, Thackeray is planning to send tweets to people in Pakistan with the line, "Raj, naam toh suna hi hoga,'' a line Shahrukh Khan mouths in `Rab ne bana di jodi'. 

(Tenali Rama is a satirical series by senior journalist T S Sudhir)
Last Updated Mar 31, 2018, 6:59 PM IST