'Rail roko' protest of Punjab farmers enters third day; 136 trains cancelled
The protesting farmers are advocating for compensation to address crop damage caused by recent floods, a legal guarantee on minimum support prices (MSP), and relief from agricultural debt. Several farmer groups, including the Kisan Mazdoor Sangharsh Committee and Bharti Kisan Union, are actively participating.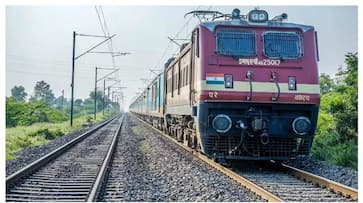 Punjab farmers' 'rail roko' protest demanding compensation for flood-damaged crops, MSP legal assurance, and debt relief continued into its third day on Saturday. This agitation has severely disrupted train services, resulting in cancellations, short terminations, and diversions, according to railway officials.
Farmers have been blocking railway tracks in multiple locations across Punjab, including Faridkot, Samrala, Moga, Hoshiarpur, Gurdaspur, Jalandhar, Tarn Taran, Sangrur, Patiala, Ferozepur, Bathinda, and Amritsar since Thursday as part of their three-day protest. Consequently, hundreds of rail passengers have been stranded in Punjab and Haryana.
One passenger at Ludhiana station expressed frustration, stating that he had to travel from Jalandhar City to Gorakhpur but had no information on the train's arrival status. Another passenger shared that the protest led to the cancellation of a train from Amritsar, where 12 of his family members were scheduled to travel to Bihar. They eventually found out that the train would depart from Ludhiana, and the family had to travel from Amritsar by road. However, there is still no update on the train's status.
The farmers' protest has directly impacted the Ambala and Ferozepur railway divisions, according to officials. Several farmer groups, including the Kisan Mazdoor Sangharsh Committee, Bharti Kisan Union (Krantikari), Bharti Kisan Union (Ekta Azaad), Azaad Kisan Committee, Doaba, Bharti Kisan Union (Behramke), Bharti Kisan Union (Shaheed Bhagat Singh), and the Bharti Kisan Union (Chottu Ram), are participating in the three-day protest.
The farmers' demands encompass a financial package for flood-affected individuals in northern India, a legal guarantee for minimum support prices (MSP) for all crops, and debt forgiveness for farmers. They are advocating for a Rs 50,000-crore flood relief package for northern states, along with MSP in line with the recommendations of the Swaminathan Commission report.
Additionally, the farmers are calling for the complete waiver of debt for farmers and labourers, as well as compensation of Rs 10 lakh and government jobs for the families of farmers who lost their lives during the agitation against the now-repealed three farm laws. The three-day protest is set to conclude on Saturday, as indicated by the agitating farmers.
136 trains cancelled
The situation has deteriorated to the extent that 3,100 passengers have had to cancel their Indian Railways train tickets, resulting in refunds totalling Rs 17 lakh. Additional ticket counters have been set up at each station to facilitate the refund process for passengers.
Due to ongoing farmers' protests in the Firozpur division of Northern Railway, a total of 136 trains have been cancelled, and 217 trains have been adversely affected over the past two days. Official sources indicate that 25 trains were short-terminated, and 16 trains were diverted.
Among the affected train services are Amritsar-Hisar, Sealdah-Amritsar, Howrah-Amritsar, Indore-Amritsar, Mumbai-Amritsar, Haridwar-Amritsar, Pathankot-Amritsar, Ludhiana-Chheharta, Amritsar-Kadian, and Pathankot-Amritsar routes.
Last Updated Sep 30, 2023, 1:21 PM IST