PM Modi's corona address: Special package worth Rs 20 lakh crore; lockdown 4.0 to be state-specific
Prime Minister Narendra Modi on Tuesday addressed the nation for the fifth time, as coronavirus cases in the country crossed the 70,000-mark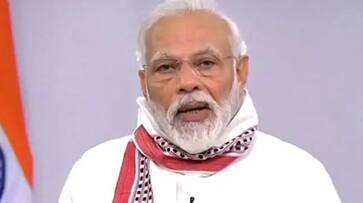 New Delhi: Nationwide lockdown to prevent the spread of coronavirus pandemic would remain according to state suggestion, said Prime Minister Narendra Modi on Tuesday. He said, "India's fight has been on for around 4 months now. Over 42 lakh people have been affected by this. India too has lost many lives. I express my condolences. A virus has disrupted the world and many are facing difficulties."
Here are the top quotes from PM Modi's address to the nation today:
21st century is ours - self-reliant India:
He added that this coronavirus crisis is unprecedented. "We can't budge to this. We have to save ourselves and move ahead. We need to strengthen our resolve. We have to see this from India's perspective. It is our dream and responsibility to ensure 21st century is ours - self-reliant," he said.

2 lakh PPE kits and 2 lakh N95 masks are manufactured in India every day:
Prime Minister Narendra Modi said, when coronavirus started, the country had no PPE kits nor N-95 masks. "But now, we make 2 lakh each every day. We have turned every obstacle into an opportunity. Definition of self-reliance is changing all over the world and India is able to see a ray of hope," he said.

India's culture speaks of self-reliance:
Modi said "we look at the world as family". From TB to polio, India's encounter with each has impacted the world. World's view of India has changed. Medicines here are giving a new hope. The world has now started believing that India can do a lot of good, he added.
We can and will make best products:
PM said India faced Y2K challenge in the beginning of this century. "We faced it. We have the talent. We will make best products. Our quality will improve. We can and we will. Our resolve is our biggest strength. No path is difficult. We have the desire as well as the way."
Rs 20 lakh crore-worth special package:
Narendra Modi said India stands on five pillars and they are economy, infrastructure, technology-driven system, demography and demand-supply chain. "With a new resolve, I announce special package worth Rs 20 lakh crore. It amounts to 10% of the GDP taking into account land, labour, liquidity, loss," he said. Details and reforms that are part of the package will be unveiled starting tomorrow, he added. 
Bold reforms to make India self-reliant:
Prime Minister Narendra Modi said that finance minister Nirmala Sitharaman will announce the details of the financial package starting Wednesday. Reforms will be introduced to ensure no one suffers in future with such pandemics. This will prepare India. Efficiency, quality of sectors will improve with this.
Global to local:
PM Modi added that "local has saved us". Global brands once started as local. "Every Indian must turn vocal for local. Use local and promote it. I am proud to declare that when I promoted khadi and handloom, those products had received great response."
Coronavirus will remain, lockdown 4.0 will take new shape:
PM Narendra Modi said that coronavirus will remain, but India will battle the virus and not let it affect the country. Lockdown 4.0 will take a new shape. "We will follow protocol (from wearing masks to maintaining social distancing norms), fight this virus and move forward. Lockdown guidelines will be provided before May 18."
He added that lockdown 4.0 will be based on state suggestions. 
India has been under lockdown since March 25 to arrest the spread of novel coronavirus. Then it was subsequently extended, first till May 3 and then till May 17. 
On May 11, Prime Minister spoke for six hours with chief ministers in his fifth such video conference. Modi told the chief ministers, "We must realise that the fight against COVID-19 has to be more focused now. The main focus of the fight against COVID-19 pandemic should be on ensuring that rural India remains free from the crisis." Many states are in favour of resuming economic activity outside containment zones as the lockdown entered the sixth week.
The total number of coronavirus cases in India increased to 70,756 today. At least 2,293 people, around 3.2% of the total COVID-19 cases succumbed to death due to COVID-19 infection.
 
Last Updated May 12, 2020, 8:55 PM IST