PM Modi's address to nation: Free ration scheme extended till November
PM Modi urged people to adhere to coronavirus rules and keep themselves safe. Adding to it he said a scheme announced earlier to supply free ration to the poor has been extended till November and this will benefit 80 crore people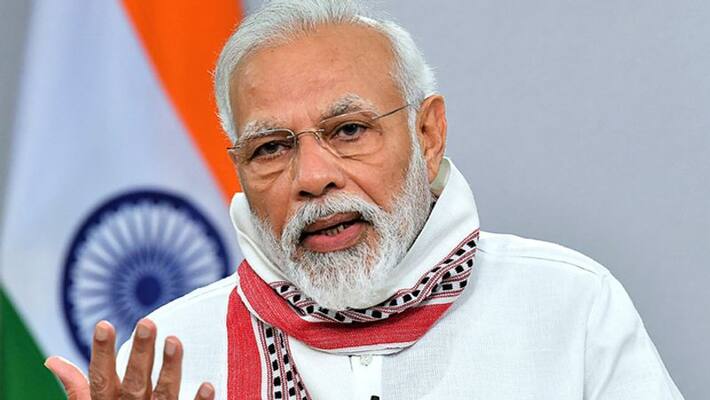 New Delhi: Amid rising COVID-19 cases and ongoing tension with China at the eastern Ladakh border, Prime Minister Narendra Modi addressed the nation at 4 pm on Tuesday (June 30).
Speaking about the novel coronavirus pandemic, PM Modi said that the flu season is upon the country and so everybody must be extra cautious.
Also read: Coronavirus: PM Modi chairs high-level meeting to review COVID-19 vaccine preparedness
"We are entering Unlock 2.0 and the season of cough, fever and cold is also about to start. In such a situation, I urge countrymen to take care of themselves," said PM Modi in his address to the nation.
Continuing in the same vein, Modi said that in recent times there has been negligence as far as following health and hygiene protocols are concerned. The level of alertness seen during the earlier phases of the lockdown has been missing in recent days, he said.
"Nobody is above the law and everybody has to follow the rules and regulations announced by the government to contain the spread of the novel coronavirus," Modi said.
He also added, "In comparison to other countries across the globe, India is still in a very stable situation, in the battle against COVID-19. Timely decisions and measures have played a great role."
Under 'Pradhan Mantri Garib Kalyan Yojana', 20 crore accounts have received Rs 31,000 crore in their Jan Dhan Accounts, he said.
Speaking about the vulnerable classes, he said, "The government had made sure that no poor sleeps on an empty stomach during the lockdown. That is why we had come up with the PM Garib Kalyan Yojana."
Funds have been transferred to nine crore farmers for procurement of grains for the Garib Kalyan Yojana. The government has provided free food grains – 5 kilos wheat/rice — to the poor, he stated.
The PM stressed that today's address is mainly based on the point that the onset of monsoon in our country is accompanied with a lot of festivities, which leads to more expenses and hence 80 crore people will be given free food grains till November end under PM Garib Kalyan Ann Yojana.
PM Modi announced that a scheme announced earlier to supply free ration to the poor has been extended till November. Around 80 crore poor people will benefit due to this, Modi said, adding that the government expects to spend around Rs 90,000 crore on this scheme.
The PM heartily thanked the farmers and taxpayers. "The success of the PM Garib Kalyan Yojana goes to India's farmers and the taxpayers. Without them, the scheme to feed the poor would not have scaled such heights," said PM Modi.
PM Modi once again urged everybody to maintain physical distance and to wear masks or face covers while out in public.
Last Updated Jun 30, 2020, 4:40 PM IST