PM Modi remains leader with highest global approval rating: Survey
Prime Minister Narendra Modi has once again achieved the world's highest global leader approval rating at an impressive 76%, according to Morning Consult. This rating places him far ahead of other global leaders, with Switzerland's President Alain Berset trailing by more than 12 percentage points.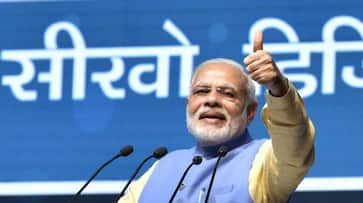 Prime Minister Narendra Modi continues to maintain his position as the world's most popular global leader, boasting an impressive approval rating of 76%, the highest globally. This data comes from the 'Global Leader Approval Rating Tracker,' a survey conducted by a US-based consultancy firm. The survey revealed that a mere 18% of respondents disapproved of Prime Minister Modi's leadership, while 6% did not express a specific opinion. In a striking comparison, Modi's approval rating surpasses that of the next leader on the list, Switzerland's President Alain Berset, by more than 12 percentage points.
This consistently high approval rating for PM Modi has been a recurring trend over the past few years. For reference, US President Joe Biden ranks seventh on the list with a 40% approval rating, which is his highest since March. A noteworthy highlight from the survey, which collected data from September 6-12, 2023, is that Prime Minister Modi also boasts the lowest disapproval rating among the top 10 leaders on the list, standing at just 18%. In contrast, Canada's Justin Trudeau holds the highest disapproval rating at 58%.
The data is a result of a survey encompassing 22 global leaders. Among them, South Korean President Yoon Seok-you and Czech Republic President Petr Pavel have the lowest approval ratings, each standing at just 20%.
India recently hosted the G20 summit in New Delhi, welcoming over 40 global leaders and their respective delegations. The summit concluded with the unanimous adoption of the New Delhi Declaration, marking a significant achievement in garnering consensus among global powers on contentious issues like the Russia-Ukraine conflict.
During India's presidency of the G20, a central focus was giving voice to the Global South and developing nations. The overarching theme for India's G20 Presidency was 'One Earth, One Family, One Future,' emphasizing global unity. PM Modi highlighted that India's G20 Presidency has symbolized inclusivity both within and beyond the country, becoming known as "People's G20" in India, connecting with millions of citizens.
Last Updated Sep 15, 2023, 7:06 PM IST