PM Modi, Egyptian President El-Sisi speak over phone; India reiterates its position on Israel-Palestine issue
Prime Minister Narendra Modi and Egyptian President Abdel Fattah El-Sisi shared concerns about rising terrorism, violence, and civilian casualties. The leaders emphasized the need for international cooperation and an immediate humanitarian ceasefire. India's abstention from a UN resolution on this matter was rooted in its stance against justifying terrorism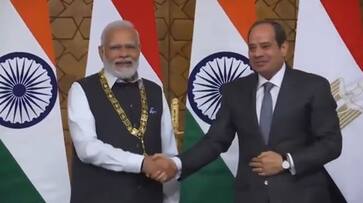 Prime Minister Narendra Modi and Egyptian President Abdel Fattah El-Sisi held a telephone conversation on Saturday, during which they discussed the worsening security and humanitarian situation in West Asia in light of the ongoing Israeli offensive in Gaza. Following their call, Prime Minister Modi stated that they both expressed shared concerns about the increasing terrorism, violence, and civilian casualties in the region.
According to a statement from the Egyptian side, President El-Sisi received a phone call from Prime Minister Modi, and the two leaders exchanged views on the latest developments in the Israeli military operations in the Gaza Strip. 
They also discussed the serious consequences of the ongoing escalation, emphasizing its impact on civilian lives and the security of the entire region.
The president stressed the urgent need for coordinated international action to achieve a swift diplomatic solution, including the establishment of an immediate humanitarian ceasefire that safeguards civilian lives and enables the uninterrupted delivery of humanitarian aid to the Gaza Strip. 
This approach aligns with a UN General Assembly resolution adopted on October 27. It is worth noting that India abstained from voting on this resolution in the UN General Assembly, asserting that terrorism is a grave concern, and there should be no tolerance for justifications of terrorist acts. 
The resolution, titled 'Protection of civilians and upholding legal and humanitarian obligations,' received overwhelming support with 121 nations voting in favour, 14 against, and 44 abstentions. In addition to India, other countries that abstained included Australia, Canada, Germany, Japan, Ukraine, and the United Kingdom.
Last Updated Oct 29, 2023, 8:47 AM IST