'Pay Rs 20 crore or we will kill you': Reliance Industries Chairman Mukesh Ambani gets death threat
Reliance Industries Chairman Mukesh Ambani has reportedly received a death threat through e-mail. The e-mail sent to the ID of Mukesh Ambani's company said the billionaire should pay Rs 20 crore or else he would be killed.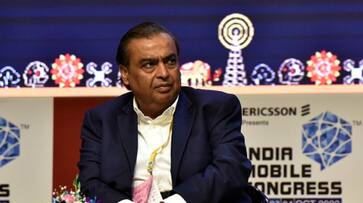 Reliance Industries Chairman Mukesh Ambani has received a death threat through e-mail, police said. The mysterious sender of the email threatened to assassinate billionaire Mukesh Ambani unless he paid Rs 20 crore to the company's email address.
"If you don't give us Rs 20 crore, we will kill you. We have the best shooters in India," the e-mail read.
Gamdevi police in Mumbai have filed a case against the unidentified individual under sections 387 (putting a person in fear of death or grievous hurt in order to commit extortion) and 506 (2) (criminal intimidation) of the Indian Penal Code (IPC) in response to the complaint of Mukesh Ambani's security in-charge.
An investigation has been started by the police.
Mukesh Ambani has previously been the target of death threats. Last year, a man from Bihar's Darbhanga was arrested for making death threat calls to Mukesh Ambani and his family members. The accused, who is an unemployed man, was identified as Rakesh Kumar Mishra. He had even threatened to blow up the Sir HN Reliance Foundation Hospital in Mumbai and Mukesh Ambani's family.
In other news, Reliance Industries announced the dawn of a new era with chairman Mukesh Ambani's children Isha, Akash, and Anant being inducted into the board of directors. Twins Isha and Akash, 32, got over 98 per cent of votes for being appointed on the board of Reliance while Anant, 28, got 92.75 per cent votes, the filing showed. Over the past few years, the three Ambani scions have been actively involved with, directing, and managing several of Reliance's major enterprises.
Mukesh Ambani, 66, has said that he will prepare them to lead the conglomerate's transition into a digital, consumer, and green energy powerhouse over the first five years of his chairmanship.
 
Last Updated Oct 28, 2023, 11:03 AM IST