'Pain is visible': PM Modi slams Kharge over his comments regarding state visit
PM Modi aimed Congress president Mallikarjun Kharge in his speech in the Upper House today. PM Modi highlighted Kharge's remark about his frequent visits to Karnataka, saying the people had closed his account and that 'pain is visible in his eyes.'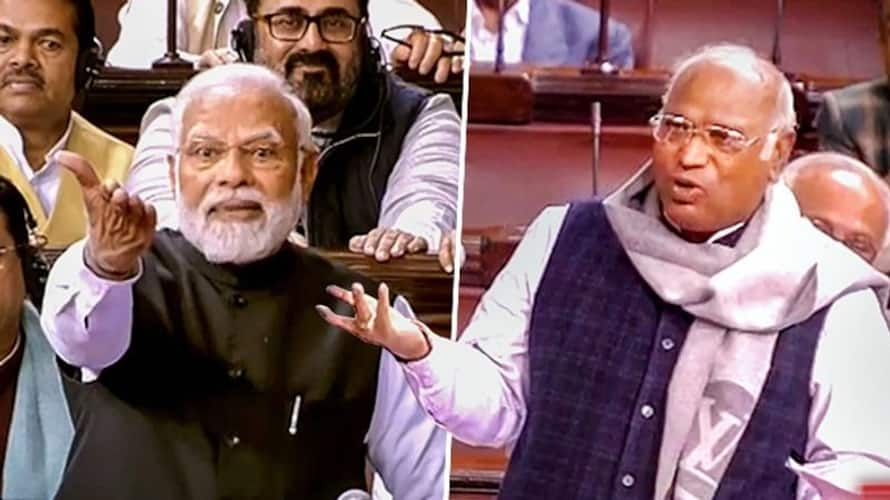 In an apparent dig at the Congress president Mallikarjun Kharge, Prime Minister Narendra Modi said that it is understandable if someone's account is closed due to people becoming aware after so many years. PM Modi highlighted Kharge's remark on his frequent visits to Karnataka and said the people had closed his account and that 'suffering is visible in his eyes.'
"Before complaining about my travels, you (Kharge) should be aware that approximately 1.70 crore Jan Dhan accounts were opened in Karnataka, with 8 lakh accounts opened in Kalburgi itself. I can understand their pain if these many bank accounts are opened, and individuals are empowered, and if that leads to the closure of someone," said PM Modi in response to a Motion of Thanks in Parliament on Thursday. 
On Kharge's defeat to BJP, PM Modi said his own people are taking him down and closing off his account, and he is 'weeping here' (in Parliament). Since the beginning of his speech, PM Modi attacked Congress, accusing them of 'digging holes' in the country for six decades. "When they (Congress) were digging holes for 60 years, even smaller nations were doing well at the time," PM Modi claimed, adding that the grand old party had widespread support across the country.
Further, he claimed that Congress was involved in tokenism at a time when individuals were dealing with many challenges, claiming that the party never attempted to solve long-term problems. "They never found a permanent solution to any problem as their interests and intents were different," PM Modi said. 
Also Read: Adani row: Opposition MPs storm Well of House as PM Modi begins Motion of Thanks speech
Also Read: 'Language and behaviour of some disappointing for India': PM Modi tells Rajya Sabha
Also Read: '2004 to 2014, a lost decade': Here's what PM Modi said on UPA govt
Last Updated Feb 9, 2023, 4:26 PM IST