'2004 to 2014, a lost decade': Here's what PM Modi said on UPA govt
PM Narendra Modi recalled the decades before the Bharatiya Janata Party (BJP) formed its first government in 2014, citing many challenges and criticism ranging from coal gate to terror attacks under the UPA govt.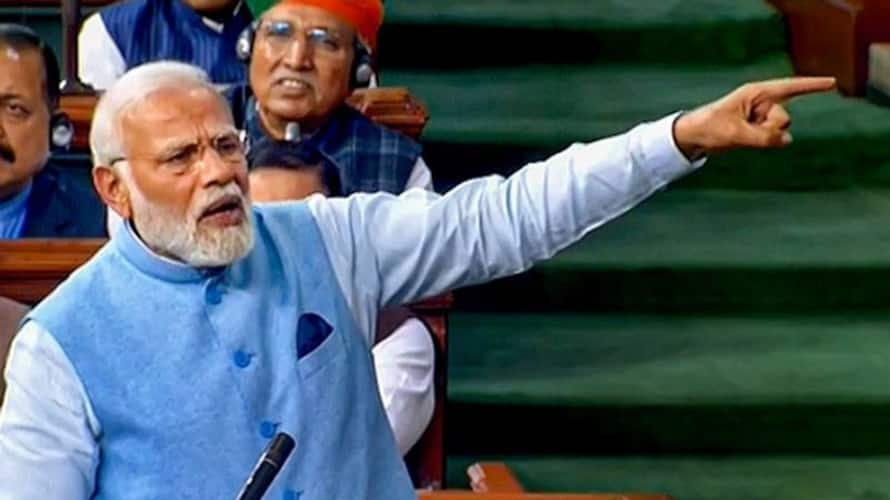 A day after Congress leader Rahul Gandhi slammed Prime Minister Narendra Modi and billionaire Gautam Adani in parliament, PM Modi pointed out the last ten years of the United Progressive Alliance (UPA) government, which had 'bled the country dry,' on Wednesday, February 8. In response to a debate on the Motion of Thanks on the President's address in parliament, PM Modi launched a sharpest attack on the Opposition and the country's UPA government. "2004 to 2014 was the decade of scams and violence, and the UPA's trademark was to convert every opportunity into a crisis," he claimed.
The Prime Minister accused the opposition of being 'immersed in despair' and that they could not see the country's progress. 
"Between 2004 and 2014, inflation was high. That decade was the most corrupt since the American Revolution. During the UPA's 10-year tenure, terrorism gripped the entire country, from Kashmir to Kanyakumari. Violence was seen throughout the entire region, from J&K to the northeast. During those ten years, India was so weak on the global stage that no one was willing to listen. Between 2004 and 2014, the UPA tweaked every opportunity into crisis," said PM Modi. 
Referring to Rahul Gandhi's comments, PM Modi added, "The last nine years, compulsive critics have taken over, instead of constructive criticism, people who believe that criticising Modi will solve their problems." 
"Another discussion about Harvard was held in Parliament yesterday," PM Modi remarked. "Congress said India's devastation will be a case study at Harvard.
However, Harvard has conducted critical research in recent years. The subject was, The Rise and Fall of India's Congress. The destruction of Congress will be studied at Harvard and at many other institutions across the globe," he continued.
On Tuesday, Rahul Gandhi accused the Prime Minister of aiding Gautam Adani's business, which is in the spotlight after US-based short-seller Hindenburg Research accused the group of stock manipulation and accounting fraud.
Gandhi said that Harvard University in the United States focuses on the situation. "Harvard University should look into the connection between politics and business; India is a case study, and the Prime Minister should get a gold medal for this," asserted Gandhi. 
In response, Bharatiya Janata Party said it's certain that Gandhi would make Gautam Adani the centrepiece of the Congress's campaign for the next election and that it would fail in the same manner as their attack on the Rafale agreement failed in 2019.
BJP leader Ravi Shankar Prasad replied, "You are dissatisfied. But what can we do if people refuse to vote for your party?"
Also read: 'Crores of citizens will shield me against Oppn's lies': PM Modi during Motion of Thanks to President
Also read: PM Modi wears blue jacket in Parliament, Know why its special
Also read: '2004-2014 was full of scams, 2030 will be known as India's decade & more' Top quotes from PM Modi's speech
Last Updated Feb 8, 2023, 6:26 PM IST