Operation Mandya: Is BJP planning to rope in more leaders from JD(S) bastion?
After denting the JD(S) bastion, Mandya, by bagging the KR Pete seat in the recently held by-election, the BJP is reportedly planning to expand its base in the rest of the district. It is said that JD(S) MLAs Suresh Gowda and Ravindra Shrikhantaiah are cosying up to BJP leaders, indicating a switchover. While the BJP has agreed to this, JD(S) leaders, however, say this is just a rumour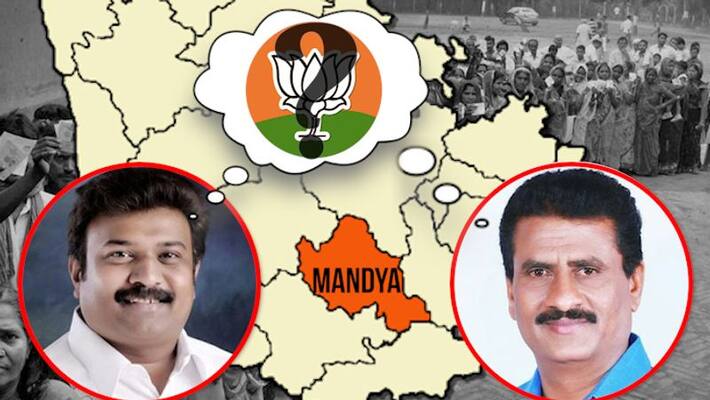 With the defeat of JD(S) candidate, post its entry into the JD(S) bastion, Mandya, in the by-election, the jubilant BJP now plans to expand its base in the rest of the district. As per reports, JD(S) MLA Suresh Gowda from Nagamangala and Ravindra Srikantaiah from Srirangapatna Assembly are in touch with BJP leaders.
The BJP camp hinted that the views of MLA Suresh Gowda are pro-Hindu, and that he also supported the abrogation of Article 370.
"Due to these factors, he is an ideal catch, but BJP is not poaching. These leaders wanted to quit their party on their own even before the by-election," said Vaman Acharya, BJP spokesperson.
Going a step ahead, tourism minister CT Ravi said, now there is a confidence among BJP workers that they can win even in other party strongholds. The results in Mandya and Chikkaballapura are an example of that, he stated.
"While few leaders from other parties may think about crossing over for the development of their constituency, others do it for their survival in politics," the minister added.
JD(S) MLA reacts:
While the BJP has revealed that few JD(S) leaders are hobnobbing with them, Nagamangala MLA Suresh Gowda rubbished these claims by terming them as "only rumours".
"I am also getting such reports from the media, but we will not leave the party. JD(S) is the king and kingmaker in Old Mysuru and will remain so in the future," Gowda stated.
According to sources, the BJP wants to expand its base in Mandya to stamp its authority in the southern region Karnataka to edge JD(S) which has played spoilsport for the national party vote bank in Old Mysuru region comprising Mysuru, Mandya, Chamrajanagar, Hassan, Tumakuru, Kolar, Chikkaballapur and Bengaluru
Last Updated Dec 18, 2019, 5:11 PM IST