Delhi's odd- even scheme: 100 people fined per hour on Day 1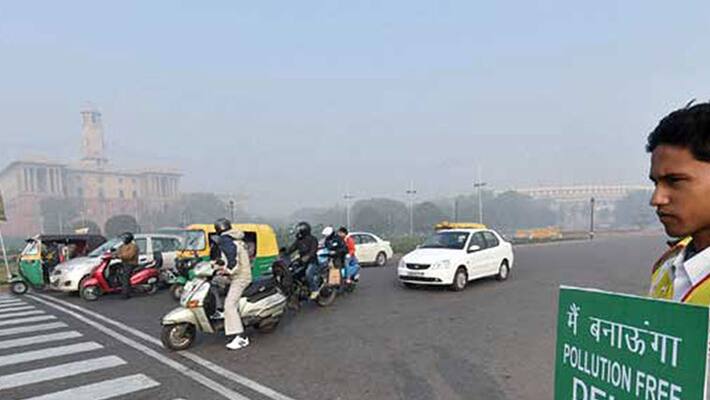 Over 500 people were fined by the Delhi Police for violating the odd-even norms on the first five hours of road-rationing formula, reintroduced in Delhi from today.According to a senior official, the highest number of challans was reported from south Delhi, followed by western Delhi, with 129 and 108 challans respectively issued till 1 pm. As many as 511 motorists were issued challans between 8 am and 1 pm, the official added.
The Delhi Traffic Police strategically placed officials in over 200 intersections in the city to monitor violations.However, around 3 pm the Delhi Transport Minister Gopal Rai said that feedback from the capital city was "positive" on the first day of the fortnight-long road rationing odd-even scheme. "I have reports from all over Delhi that people are following the plan. The final picture will emerge after we receive reports from different departments," Rai, who took a bus ride to assess implementation of the scheme, told media persons.
Owing to Ram NavAmi holiday, light traffic was witnessed during the course of the full circle bus ride from Delhi Secretariat, via Pragati Maidan, India Gate, Delhi Gate, Red Fort and Rajghat. He further added that though the response from the people was "positive" complaints were coming from border areas where drivers from other states were caught for violation.   
Rai further added that following the extended weekend, traffic will increase on Monday when offices and schools will re-open, but the government is prepared to tackle the situation.The transport minister has appealed to the people of Delhi to leave "early" to drop their children to school so that they are not caught on the wrong side. He has also urged women drivers to help and drop back other children in their neighbourhood from school while picking their own children.
On being asked about complaints regarding over charging by App based cab aggregators providing carpooling options, Rai said that since they are not registered in Delhi, the government has a limited role in restraining them but "strict action" will be taken if any complaints are found.
Delhi saw the second phase of the odd-even experiment kick start on Friday with the Delhi Chief Minister, Arvind Kejriwal tweeting early in the day asking people to join hands to make the program a success.This scheme was introduced in a bid to tackle air pollution and reduce congestion on the roads of the capital city. According to the scheme, four-wheelers with odd-registration plates will run on odd dates and those with even registration plates will run on even dates. The rule is being enforced from April 15-30, 8 am to 8 pm with Sundays being exempted. Women drivers and VIP vehicles have been exempted from the rule as well.
Last Updated Mar 31, 2018, 6:37 PM IST