NRI entrepreneur who invested crores to set up business in Kerala a victim of red tape
Shajimon George, an expatriate businessman, who invested Rs 25 crores to set up a business in Kottayam, started a protest after the Manjoor panchayat delayed allotting building number.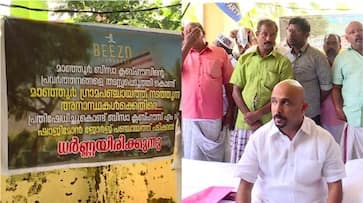 Kottayam: While Kerala boasts itself as an industry-friendly state, an expatriate in Kottayam has started a protest against the non-availability of building number for his industrial establishment built under a cost of Rs 25 crores. The expatriate, Shajimon George began protesting on Tuesday morning (Nov 7) in front of the Manjoor panchayat office in Kottayam district. Eventually, the cops arrived and took Shajimon away from the panchayat premises by force. The bed that Shajimon was lying on was also taken away by the cops. Then Shajimon protested by lying down in the middle of the road.
Also read: Kerala: Contractors who took up Kochi Corporation work struggle as arrears worth crores yet to be cleared
The panchayat president told Asianet News that the building number was not allotted due to insufficient documents. The panchayat president Komalavally explained that the building number could be given if five more documents were submitted and the panchayat has no enmity towards the entrepreneur Shajimon. 
Shajimon replied that he would not negotiate with the panchayat and would not stop the fight without the intervention of the court or the ministers. According to him, the president narrowed everything down to these five things after his plight was reported by Asianet News. Shaji also raises the question of why he was given notice after presenting all the above certificates many times. The president reiterated that there are no personal problems with Shaji and that if the strike is withdrawn and the certificates are delivered, all the confusion will be resolved. 
Shajimon George complained that the panchayat officials were delaying allotting the building number for frivolous reasons as one of the officers was arrested by the Vigilance for asking bribe. Shaji has decided to take a satyagraha in front of the panchayat against bureaucratic policies that are standing in the way despite having invested Rs 25 crore in his own hometown. 
Last Updated Nov 7, 2023, 2:42 PM IST