Nirbhaya case convicts hanged, justice after 7 long years
The Delhi high court dismissed last minute pleas by convicts seeking stay on execution late on March 19 night paving the way for execution of Nirbhaya convicts to take place at 5.30am today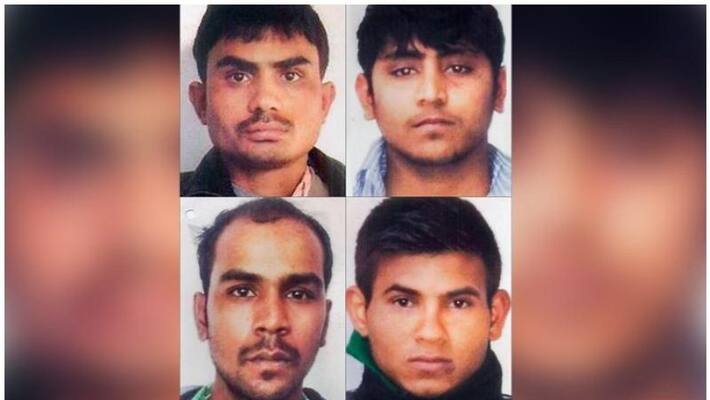 New Delhi: The four Nirbhaya case convicts have been hanged in Tihar Jail on March 20 at 5:30 in the morning. The hangman Pavan, hailing from Meerut conducted the hanging. Late on March 19 night, the Delhi high court dismissed last minute pleas by convicts seeking stay on execution. 
Earlier, there were three postponements in the hanging dates. The lawyers had used their legal acumen to the fullest to earn more time for the clients. 
The Supreme Court on Thursday dismissed the curative petition filed by Pawan Gupta, a convict in the Nirbhaya gang rape and murder case. He had moved the Supreme Court with a curative petition to challenge the death sentence awarded to him.
Meanwhile, President Ram Nath Kovind too refused to entertain the second mercy petition filed by Pawan Gupta and Akshay Kumar Singh.
In another delaying tactic, convict Akshay's wife Punitha who had filed a petition for divorce stating that she does not want to live as a widow of a person who is sentenced to death, failed to turn up at the court yesterday. The family's court had given today's date for the hearing in the divorce case. 
Due to the non-appearance of Punita, the court was forced to give the next date in the divorce case. Now the next hearing of the case has been scheduled on March 24.
On March 5, a trial court issued fresh warrants for March 20 at 5.30 am, as the date for the execution of convicts Mukesh Singh (32), Pawan Gupta (25), Vinay Sharma (26) and Akshay Kumar Singh (31) in the Nirbhaya rape and murder case.
The case pertains to the gang-rape of a 23-year-old paramedical student in a moving bus on the night of December 16, 2012, by six people including a juvenile in Delhi. She died at a Singapore hospital a few days later.
One of the five adults accused, Ram Singh, had allegedly committed suicide in the Tihar Jail during the trial of the case, while the juvenile was sent to a reform centre and released after three years.
Last Updated Mar 20, 2020, 5:31 AM IST