Mother's name on Team India jerseys, Star Plus initiative a big hit
Team India won their respective mother's names on jerseys.
Nayi Soch is an initiative by Star Network.
The players showed their gratitude during the final ODI against New Zealand.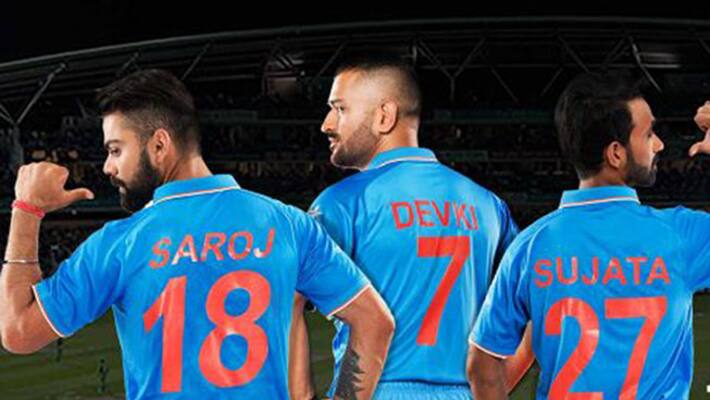 When Team India played against New Zealand in Vizag in the final ODI recently, the most spectacular and emotionally captivating moment that captured the attention of the world was when players of Indian cricket team wore the jersey bearing their respective mother's name. The match was played on the eve of Diwali, and this gesture came as a pleasant surprise to everyone viewing the match. 
The idea to wear the mother's name instead of their own on the jerseys came from Star Plus initiative called, Nayi Soch, and it a continuation of MS Dhoni, Virat Kohli and Ajinkya Rahane's 'Nayi Soch' ads for the popular network. Nonetheless, this progressive move by all the players became the highlight of that glorious match. 
MS Dhoni who was seen wearing the jersey having his mother's name, Devaki, printed on the back explained that this move is to appreciate their mother's contribution to the players' lives. 
During the toss, Dhoni said, "We are quite used to having the surnames from the Dad's side, and what's important is to appreciate the stuff that Mothers have done for us. It's a very emotional connect and it's good that it is put on a public platform. I would like to request the whole of India keeps this in mind every day and appreciate them everyday."
This incredible display of gratitude impressed not only the mothers and family members of the players but also the social media active population who applauded the players and the Nayi Soch initiative through Tweets and social media feeds. 
Here are couple of Tweets that shows how Twitterati reacted to this initiative:
Congratulation to Team India and Star Network for such a wonderful initiative.
Last Updated Mar 31, 2018, 6:50 PM IST