MP crisis: Congress' Digvijay Singh Chouhan protests to meet rebel MLAs, detained by Bengaluru Police
Congress leader Digvijaya Singh on early Wednesday sat on a dharna outside Ramada Hotel in Bengaluru. The development came after Singh was allegedly not allowed by the police to visit the hotel, where 21 Madhya Pradesh Congress MLAs are lodged in.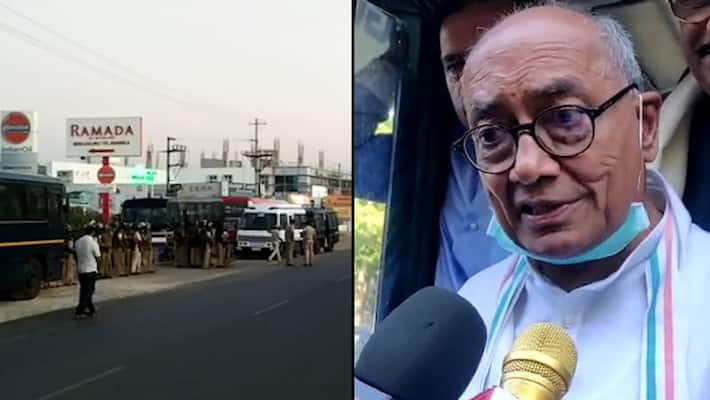 Bengaluru: Former Madhya Pradesh chief minister and senior Congress leader Digvijay Singh flew into Bengaluru in the early hours of Wednesday to meet rebel MLAs staying at a local hotel. Singh was received at the airport by the newly appointed Karnataka Pradesh Congress Committee (KPCC) president DK Shivakumar.
However, Digvijay Singh reportedly could not meet the 22 MLAs of the MP state Assembly who are holed up at a Bengaluru hotel. 
A video of Digvijaya Singh sitting on dharna outside the Bengaluru hotel was posted by news agency ANI.
Later, he was denied permission to sit on a dharna in protest and was subsequently detained by the Bengaluru Police. 
An angry Singh claimed to the media that he was a Gandhian, and was not carrying arms and yet was being detained.
" 
Madhya Pradesh plunged into a political mess after Jyotiraditya Scindia, a prominent face of the Congress, resigned from the party last week to join the BJP. Scindia's decision to leave the Congress was followed by the resignation of 22 party MLAs loyal to him. But Speaker NP Prajapati selectively accepted the resignations of six, hinting at conspiracies in store.
Meanwhile, the Supreme Court will today hear the petition filed by former Madhya Pradesh CM and BJP leader, Shivraj Singh Chouhan, and others to hold floor test in the Madhya Pradesh Assembly.
Last Updated Mar 18, 2020, 11:27 AM IST