Modi's fourth visit to US in two years on June 7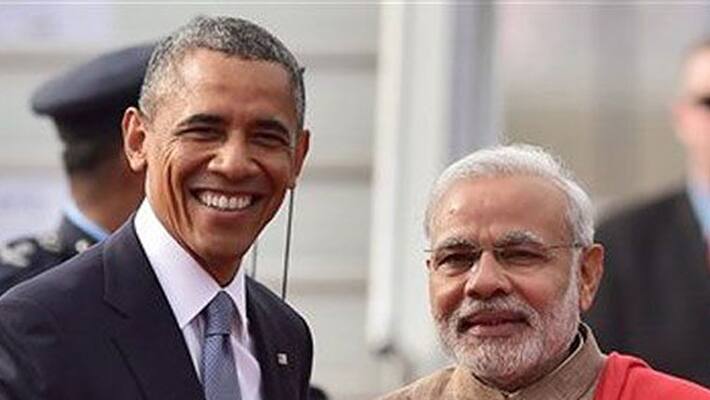 Prime Minister Narendra Modi will meet President Barack Obama at the White House on June 7 to review the progress made in key areas of defence, security and energy during his two-day visit to the US where he will also address a Joint Meeting of the US Congress.
Modi, who is leaving for Iran on Sunday, will also pay a two-day visit to Qatar from June 4. 
"President Obama will meet with Prime Minister Modi of India at the White House on Tuesday, June 7," White House Press Secretary Josh Earnest said in a statement.
The visit will highlight the deepening of the US-India relationship in key areas since the President's visit to New Delhi in January 2015, he said.
"The President looks forward to discussing progress made on our climate change and clean energy partnership, security and defence cooperation, and economic growth priorities," Earnest said.
Earlier in New Delhi, the External Affairs Ministry today announced that the Prime Minister will visit Washington DC on June 7-8 at the invitation of President Obama.
"The main objective of the forthcoming visit of the Prime Minister would be to consolidate the progress made in diverse areas such as economy, energy, environment, defence and security, and to intensify cooperation for the future," the ministry said.
The Prime Minister has also been invited by the Speaker of the US House of Representative, Paul Ryan, to address a Joint Meeting of the US Congress which he has accepted, it added.
Modi, who was invited by Obama for a bilateral visit when Modi travelled to the US for the nuclear summit in March, will be the fifth prime minister of India to address a joint meeting of Congress.
Earlier, Prime Ministers Manmohan Singh (July 19, 2005), Atal Bihari Vajpayee (September 14, 2000), P V Narasimha Rao (May 18, 1994) and Rajiv Gandhi (July 13, 1985) addressed the joint meeting of the US Congress.
The US Congress has been a source of strength for the India-US strategic partnership and the India Congressional Caucus is the largest such group in the US Congress, the MEA said.
After he became the Prime Minister in May 2014, this will be Modi's fourth visit to the US and third to the White House.
During the visit, Modi will have interactions with CEOs of major US companies on the evening of June 7.
Realisation of the full potential of Indo-US economic partnership has been a key priority for both the countries and the progress achieved in this regard is reflected in the increased investment flows, the ministry said.
 
Last Updated Mar 31, 2018, 6:40 PM IST