Man who bit snake to death faces three years jail term
Shivakumar, the resident of Mustur in Mulbagal, Karnataka, has become world famous for biting a snake to death. As the video went viral, the DCF ordered his arrest under Wildlife Act and based on this instruction, Shivakumar was picked up from his home, produced at court, which remanded him to judicial custody till May 19.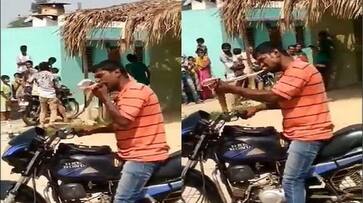 Mulbagal: Shivakumar (34) from Mustur village, Mulbagal, in Karnataka, sent shock waves through the state after biting a snake to death. He will now have to spend three years in jail as he is booked under Schedule 1, Part 2 of Wildlife Act 1972.
The Mulbagal Range Forest Officer (RFO), Ravi Keerthi, said to Asianet Newsable, immediately after receiving the video, the Deputy Conservator of Forest, Y Chakrapani, Kolar District ordered officials to trace and arrest the accused. 
The youngster apparently had very little clue of what he had done under the influence of alcohol. He was picked up from his home.
"He regretted what he had done after we showed him the viral video. The youngster pleaded innocence and said since he was not drinking for the last 40 days, he emptied 3 bottles once liquor stores opened. And thus, he did not know what he was upto. Now he will be in jail for 3 year as per law. The court has sent him to judicial custody," said the RFO. 
He further added, "We have sent the dead snake for postmostem. Once the report is out, the department will be in a position to tell what snake was it. Prima facie, it looks like rat snake. 
On Monday, the day the liquor shops were opened, Shivakumar consumed alcohol. Later, while returning home, he found a snake crossing his path. He immediately caught the snake and took it to his village. He them bit the snake to pieces and killed the reptile. 
Last Updated May 7, 2020, 11:07 AM IST