Madhya Pradesh: Trainer aircraft crashes into temple in Rewa district; pilot dead, other injured
The aircraft crashed three kilometres from the airstrip after hitting the temple's dome and a tree during the training mission. The incident injured the trainee pilot on board, said JP Patel, in charge of the Chorhatta police station.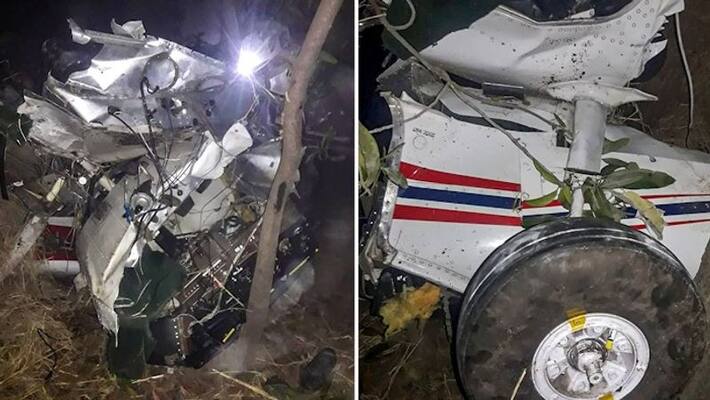 A pilot of a trainer plane was killed after it crashed in Madhya Pradesh's Rewa district, 400 kilometres from the state capital Bhopal, police said on Friday, January 6, 2023. The official added that the trainee pilot on board was injured in the incident. 
The accident occurred on Thursday night between 11:30 pm and 12:00 am. The plane hit the temple's dome. Following the preliminary investigation, fog-induced low visibility was the cause of the accident. 
The incident happened in the Urmi village, which comes under the Chorhata police station area of Rewa district. At Umri Airport, the platoon company provides training.
At 11:30 pm, pilot Captain Vishal Yadav was instructing Anshul Yadav. A loud explosion was heard during this time, and the plane's wreckage was scattered. According to local media, people sleeping in their houses heard the sound and rushed to the scene. 
In-charge of the Chorhatta police station, J P Patel, said that the aircraft crashed three kilometres away from the airstrip after hitting the dome of a temple and a tree while on a training mission.
The official added that Captain Vishal Yadav (30) died in the crash, while trainee pilot Anshul Yadav was injured and taken to the government-run Sanjay Gandhi Medical College Hospital. 
Rewa Collector Manoj Pushp and Superintendent of Police Navneet Bhasin were on the scene, and district officials said more information about the crash was awaited.
The Rewa airstrip is being developed into an airport. The Falcon company trains trainees at the Rewa Pilot Training Center.
Five months ago, an Air Force fighter jet, MiG-21 Bison (trainer aircraft), crashed in Rajasthan. It caught fire, and the debris was scattered in a half-kilometre radius. Two onboard pilots were killed in the crash.
Also Read: Watch: Helicopter pilot loses control after takeoff, here's what happens next
Also Read: Madhya Pradesh: Bus crashes vehicles after driver dies of heart attack; CCTV footage goes viral
Also Read: US: Small plane crashes into power lines in Montgomery County; causes major blackout
Last Updated Jan 6, 2023, 11:12 AM IST