Luxury train Deccan Odyssey resumes operation; Check ticket price, features, routes and more
The centrally air-conditioned train Deccan Odyssey provides all the comforts to its passengers. With state-of-the-art amenities and beautifully decorated Deluxe and Suite Cabins with adjoining bathrooms, the travellers enjoy luxurious trips.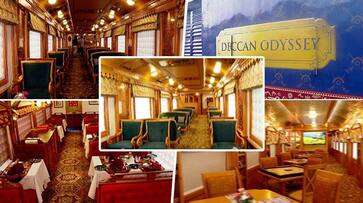 After a nearly four-year break, the luxurious Deccan Odyssey train has been reinstated by the Maharashtra Tourism Development Corporation (MTDC). Speaker of the Maharashtra Assembly Rahul Narvekar flagged off the train's first run, which chugged between Panvel and CSMT in south Mumbai. The train is considered one of India's most luxurious trains.
The Indian Railway and the State Government of Maharashtra joined together to launch Deccan Odyssey in 2005 with the goal of encouraging tourism in the state. This luxurious train travels through Maharashtra's popular tourist destinations and gives passengers a chance to learn about the state's rich cultural heritage. The Deccan Odyssey train has 6 different itineraries, each with its own name.
The maiden tour of the train, according to MTDC Managing Director Shraddha Joshi, will transport travellers from Mumbai to Delhi over a seven-night, eight-day period, stopping in Vadodara, Jodhpur, Jaipur, Agra, Udaipur, and Sawai Madhopur. She stated that 20 seats for this commercial run had already been secured.
The Indian Sojourn, Maharashtra Splendour, Indian Odyssey, Heritage Odyssey, Maharashtra Wild Trail, and Cultural Odyssey are six of the Deccan Odyssey's planned itineraries, according to the MTDC. According to officials, each person will need to pay Rs 6.5 lakh to enjoy this experience, while a couple (two seats) will pay about Rs 9 lakh.
According to a press release from MTDC, the train has undergone extensive renovations and is now prepared to run in its new configuration.
The press release listed a number of enhancements, including the addition of fire extinguishers in every coach, the substitution of LPG gas for induction in pantry cars, adjustments to the gangways to make it simpler to transfer from coach to coach and a new air suspension trolley for a smoother ride. A feature that was missing from the train's earlier iteration is the addition of bio tanks to every coach bathroom.
The Deccan Odyssey also offers intercom and WiFi access, plush furnishings, a music system, mattresses, and an effective air conditioning system to provide visitors with a regal experience. There are 21 coaches on the train, 10 of which have four deluxe cabins each, and two have presidential suites.
 
Last Updated Sep 25, 2023, 12:28 PM IST