Why name and shame kind of Facebook vigilantism could backfire on women
A document called the Sexual Violence Hall of Shame is being circulated
The list contains names of academics who may have sexually harassed or were sexually predatory to students
Through this exercise Raya Sarkar, the name behind this, aims to make people wary of these predators, especially vulnerable people who may be their next victims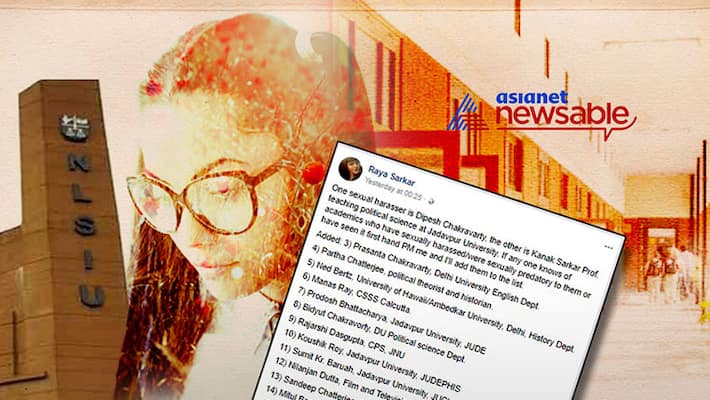 Hollywood producer Harvey Weinstein's involvement in numerous instances of alleged sexual abuse in the film industry has opened a can of worms. It has prompted many women to come and acknowledge how they have been abused, assaulted or sexually harassed in various places, situations, professions and more.
While #MeToo campaign saw Indian women participate wholeheartedly, now Raya Sarkar, who calls herself an attorney interested in prisoner's rights, reproductive rights and anti-caste jurisprudence' made a Facebook post that has been a eye-opener of sorts. This post has already rocked the academia world in India. It is being tagged as the #HimToo campaign. 
Raya in her post says: "If anyone knows of academics who have sexually harassed/were sexually predatory to them or have seen it firsthand PM me and I'll add them to the list."
The said list is being circulated in the form of a document titled 'Sexual Violence Hall of Shame' which is divided into country, state, type of profession, place, name of university, designation, number of victims, description of complaints, resolutions if any, year of violence. Not surprising, till now the first eight columns mentioned are full of details when it comes to the resolution part, the column stands largely empty.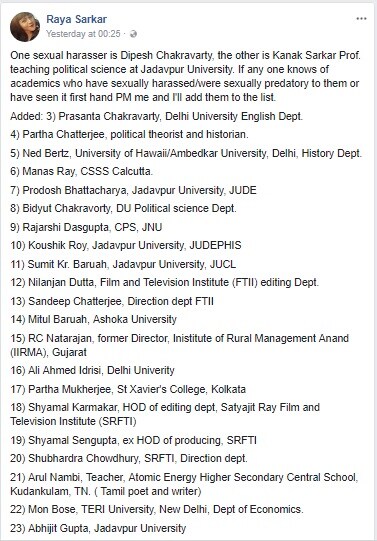 There in itself you have it - the fear of being bullied, attacked, shamed again as a victim that girls while they have mentioned names in the other columns are unable to resolve their problems.In fact, one column reads, complainant was being bullied to take it down.
 Raya Sarkar adds to her FB post, "Most if not all are first-person accounts of people who were molested/sexually harassed by the people who have been put on this list. Rest are a friend (sic) they (the victims) have chosen to specifically contact me as they fear their identity being disclosed. In fact, since there is a disturbing amount of rape apologia and victim blaming the victims have gone out of their way to show me screenshots of them being harassed and abused by the people they have named."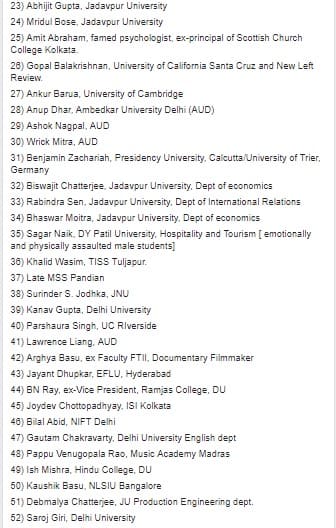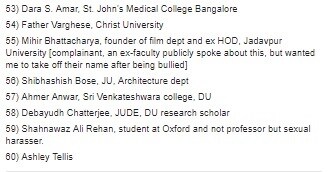 When you read the names of professors from University of Delhi, Jadavpur University, St John's Medical College, NLSIU, NIFT, Christ University, FTII, Satyajit Ray Film and Television Institute, Calicut University, Colombia University, you know how close to home it is. We may have either been students of these institutions, known friends in the same or studied under these professors.
At present the list contains some 75 odd names, as the chain grows the list is bound to get bigger and it shows us a horrifying truth of what lurks in classroom and college corridors. It is a start. The names we spent hearing over and over again as the scourge of some young college student; some were punished, some were not, some got temporary removals and some remain in the echelons of power. Will this list just be a temporary fog or a storm that changes academia and the processes for safety of women in schools? In the name of raising awareness Raya has raised hopes. Nothing will change unless the system on sexual harassment in colleges is addressed.
For now Raya says that based on the list two women have seen how their abuser has been preying on others as well and so buoyed by these facts, the two have decided to take legal action against the said professor.
Raya categorically says this is not 'a name and shame' list but "This list is to make people wary of these predators, especially vulnerable people who may be their next victims."
But as some celebrate with air punches and feelings of righteousness; the thoughts that finally these alleged molesters, harassers, rapists who filled school and college days with dread and humiliation will be brought to book gains ground, a booming voice of caution erupts in another corner of social media.
The counter to this act of naming the abusers comes from the feminist corner. Signed by names like Ayesha Kidwai, Brinda Bose, Kavita Krishnan, Nivedita Menon, Vrinda Grover and more a statement on Kafila reads: As feminists, we have been part of a long struggle to make visible sexual harassment at the workplace, and have worked with the movement to put in place systems of transparent and just procedures of accountability. We are dismayed by the initiative on Facebook, in which men are being listed and named as sexual harassers with no context or explanation. One or two names of men who have been already found guilty of sexual harassment by due process, are placed on par with unsubstantiated accusations. It worries us that anybody can be named anonymously, with lack of answerability…We appeal to those who are behind this initiative to withdraw it, and if they wish to pursue complaints, to follow due process, and to be assured that they will be supported by the larger feminist community in their fight for justice."
While the initiative itself is gutsy move, it also requires careful introspection as to how potent a tool it is – how it can destroy the lives of both the accused and accusers. Unfortunately, only the accused stands exposed in this case, the accuser forced to hide or is satisfied under the cloak of anonymity. Needless to say it takes a lot of courage to face our demons but this could end up destroying the career, life, reputation of a person completely oblivious to what is being charged against him. Seeing the resolution column largely empty we do get a cue that many have not dared to approach authorities regarding their distress. So does this list guarantee a resolution?
Addressing these thoughts a girl who goes by the name Inji Pennu, on Facebook, supporting Raya says: "To acknowledge the concerns you have raised, below are some of the ways how the list is updated:
* The list is put together as first-person accounts when women are coming forward to talk.
* If it is a victim who wants to be completely anonymous, then her friend stands alibi for the victim.
* ScreenShots of chats, Whatsapp messages, emails, call recordings are all collected in a folder for complete anonymity.
As you can see, these were not random data with no context. However it is worrisome that the victims can take a U-turn, there can be lawsuits against this accumulation of data, and possibly even lack legal standing at many of the gathered shreds of evidence.
If someone is 'wrongly' accused, out of vengeance, which of course can happen, would love to hear from them too. Let us have the conversations started on why there are these many professors in this list, some universities are just teeming with it, some of them quite famous, even called in to write feminist discourses.​
Giving the accused a chance to speak should have been done before publishing the list free for all. In no way are we condemning the women who came forward to bare their souls. It is just the manner in which it was done which could have been different. The issue has become so sensitive that one might in many ways end up negating the courage and suffering of the numerous complainants in an attempt to understand the connotations of this kind of Facebook vigilantism. 
This form of vigilante justice is bound to have horrible implications and set a dangerous precedent for people to use the social medium to take revenge or wash dirty linen in public with the sole purpose to humiliate another. The line between speaking out and publically ruining a life stands blurred. 
Knowing the capacity of mob justice that has recently taken over the country, who will answer if tomorrow these very men on the list die because someone decided to take the law into their own hands?
Last Updated Mar 31, 2018, 6:57 PM IST