Kochi Metro announces exclusive ticket discounts for August 15 commuters; Read
On Independence Day (Aug 15), people can travel any distance in Kochi Metro for Rs 20.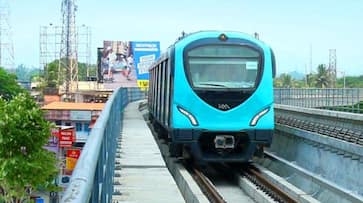 Kochi: As part of India's 77th Independence Day on August 15, the Kochi Metro has announced concessions and discounts for passengers. The maximum ticket charge on that day would be Rs 20. People can travel any distance on Kochi Metro trains with a ticket of Rs 20. That is, on August 15, tickets priced at Rs 30, 40, 50 and 60 will be discounted by Rs 10, 20, 30 and 40 respectively. 
Also read: Stones pelted at three running trains in Kerala; three held
The trains will operate from 6 a.m. to 11 p.m. At the same time, the minimum ticket price would be Rs 10. Paper QR, Digital QR and Kochi One Card will get these concessions. Kochi One card users will get a discount as cashback.
Between July and August, the metro's daily commuter average grew from 85,545 to 89,401. According to a release, an abundance of offers and travel passes have contributed to the metro's increased popularity.
Meanwhile, the second phase of Kochi Metro Rail Ltd's project has commenced. 
The second stage of this transformational project entails an 11.2 km elevated route with 11 stops that runs from Jawaharlal Nehru International Stadium station to Infopark via Kakkanad. For the realisation of this objective, the Central government has allotted a sizeable Rs 1,9567 crore. Notably, the process of acquiring property between Palarivattom and the Jawaharlal Nehru International Stadium is anticipated to be finished by September. 
Last Updated Aug 14, 2023, 12:47 PM IST