Kerala's second Vande Bharat Express to be flagged off on September 24; Read details
Kerala will get the first newly-designed Vande Bharat Express on September 24 (Sunday). Prime Minister Narendra Modi will flag off nine semi-high-speed trains at 12 pm including Kerala's second Vande Bharat Express.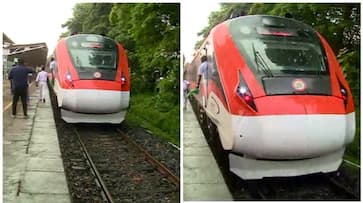 Thiruvananthapuram: The newly-designed second Vande Bharat Express allotted to Kerala will be flagged off on Sunday (Sep 24) by Prime Minister Narendra Modi via video conferencing at 12 pm. The new train would pass through Alappuzha, whereas the earlier one went through Kottayam. The new Vande Bharat train will leave Kasaragod on Sunday to begin its inaugural run. The current blue-white paint scheme would be replaced by a brand-new Saffron-Grey livery on this train, making it the first Vande Bharat Express in India. PM Modi will flag off nine Vande Bharat trains in one go tomorrow. 
At a time when the Lok Sabha elections are only a few months away, the ministry has chosen to send a second Vande Bharat train to Kerala. The BJP and NDA have had difficulty in Kerala. The BJP-led NDA did not win even one seat in the state in the 2019 Lok Sabha elections while winning the election nationally and increasing its vote share to 15%.
The train number of Kasaragod-Thiruvananthapuram Central Vande Bharat Express is 20631 and the Thiruvananthapuram Central-Kasaragod Express will hold the train no 20632. The trial run was successfully completed on Friday (Sep 21).
Meanwhile, the Railway board has confirmed that there will be a stoppage at Tirur station too. The first Vande Bharat Express does not halt at Tirur station. According to the official schedule made available on Friday, train number 20631, which departs Kasaragod for Thiruvananthapuram at 7 am, would arrive at Tirur at 9.22 am. At 8.52 p.m., train number 20632 from Thiruvananthapuram will arrive at Tirur. 
The train will leave Kasaragod at 7 am and reach Thiruvananthapuram at 3:05 pm. The return journey will commence from Thiruvananthapuram at 4:05 pm and reach Kasaragod at 11:55 pm. Apart from Thiruvananthapuram and Kasaragod, there will be stops at Kollam, Alappuzha, Ernakulam South, Thrissur, Shoranur, Tirur, Kozhikode and Kannur stations.
The new Vande Bharat Express will have a greater seat reclining angle, better seat padding, easier access to mobile charging stations, longer footrests in executive chair cars, deeper washbasins to prevent water splashing, and better lighting in the restrooms. It will also have wheelchair mounting points for specially-abled passengers in the driving trailer coaches, a change from resistive touch to capacitive touch for the reading lamp's touch to make it easier to use, better roller blind fabric and an anti-climbing device for increased safety. 
Last Updated Sep 23, 2023, 9:42 AM IST