Kerala News HIGHLIGHTS: After Puthuppally byelection, Chandy Oommen watches 'Jailer' in theatre
Kerala News HIGHLIGHTS: After Puthuppally byelection, Chandy Oommen watches 'Jailer' in theatre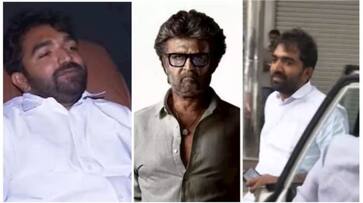 4.00 PM: After Puthuppally byelection, Chandy Oommen watches 'Jailer' in theatre
Soon after the polling concluded in Puthuppally on Tuesday (Sep 5), UDF candidate Chandy Oommen watched Rajinikanth's 'Jailer' in a theatre. He said, "I knew it was a good movie. I also learned that today is the last show. I wanted to see the movie but could not because of the huge rush". He likes to learn the language so he watches Tamil-Telugu movies. Chandy Oommen said that he is watching the movie also to learn the language. 
---
3.30 PM: Couple found hanging in five-star hotel in Thiruvananthapuram 
A couple was found hanging in a five-star hotel in Thiruvananthapuram. The deceased are Malayinkeezhu natives Sugathan and his wife. 
---
1.30 PM: Puthuppally byelection: EC confirms 72.86 voter turnout as the polling concluded
---
1.00 PM: Four excise officers in Wayanad suspended for taking bribe from drug smugglers
---
12.30 pm: Minister R Bindu's son enters wedlock; CM Pinarayi Vijayan, actor Mammootty attend wedding
Harikrishnan, son of Higher Education Minister R Bindu and CPIM politburo member A Vijayaraghavan tied the knot with Aswathy on Wednesday (Sep 6) at 10.30 a.m. in Thrissur. Chief Minister Pinarayi Vijayan, ministers K Radhakrishnan, V Sivankutty, Antony Raju, Mohammad Riyas, CPIM leaders Prakash Karat, Vrinda Karat, EP Jayarajan, MV Govindan, MA Baby, PK Sreemathi, M Swaraj, actor Mammootty and many others were present. 
---
11.30 AM: Verbal altercation over Puthuppally results lead to stabbing in Kochi; CPM branch secretary detained
The dispute related to the Puthuppally by-election took a violent turn as a clash erupted in Kalady. One person was injured in the scuffle. It was Kunnekkadan Johnson, a local from Kottayam, who was injured. According to him, the attack was carried out by CPI(M) Pothiyekkara Branch Secretary Kunnekkadan Devassy. Johnson, who sustained head injuries, was taken to a private hospital in Angamaly.
---
10.45 AM: Tanker lorry overturns after losing control in Malappuram; 2 injured
A tanker lorry lost control and overturned in Perinthalmanna, Malappuram. The tanker carrying petrol from Kochi met with an accident. Krishanankutty, the driver of the vehicle, and Jinu, who was with him, were injured. They were admitted to a private hospital in Perinthalmanna. The fire and rescue team and the police reached the spot and ensured that there was no danger. The incident took place at 12 a.m. on Wednesday. The accident took place at CH Junction on Perinthalmanna Pandikkad Road.
---
10.15 AM: Man thrashed to death by relatives over verbal spat in Thiruvananthapuram
A man was allegedly thrashed to death by his relatives in Thoongampara, Thiruvananthapuram on Tuesday around 4 pm. The deceased has been identified as Jalajan (55), a native of Pottavila. Jalajan and his close relatives, brothers Sunilkumar and Babu, allegedly got into a verbal altercation while they were in attendance at the funeral of another relative.
---
9.45 AM: Devotees flock to Guruvayur temple on occasion of Janmashtami
On the occasion of Janmashtami, thousands of devotees have flocked to Guruvayur Sri Krishna temple to offer prayers. 
---
8.45 AM: Ashtami Rohini Aranmula Vallasadya to kick off at 11 am today
The grand Ashtami Rohini Aranmula Vallasadya will begin today at 11 am in the Pathanamthitta district. The much-celebrated feast (sadya) is prepared under the leadership of around 300 expert cooks.
---
8.30 AM: Heavy rains to lash Kerala; Yellow alert in 5 districts
IMD has sounded a yellow alert in the Pathanamthitta, Alappuzha, Kottayam, Idukki and Ernakulam districts. 
06-09-2023 : Pathanamthitta, Alappuzha, Kottayam, Idukki, Ernakulam
07-09-2023 : Pathanamthitta, Alappuzha, Kottayam, Idukki, Ernakulam, Thrissur
08-09-2023 : Pathanamthitta, Alappuzha, Kottayam, Idukki, Ernakulam, Thrissur, Palakkad, Malappuram
09-09-2023 : Pathanamthitta, Alappuzha, Kottayam, Idukki, Ernakulam, Thrissur, Palakkad, Malappuram
Last Updated Sep 6, 2023, 5:03 PM IST