Kerala News Highlights: Kerala High Court stays allegation case against Lakeshore Hospital in Kochi
Kerala News Highlights: Kerala High Court stays allegation case against Lakeshore Hospital in Kochi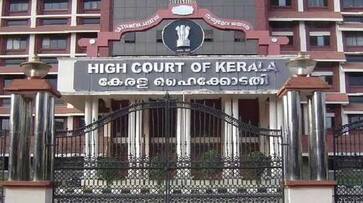 4:35 PM: Motor Vehicle Inspectors Association to hold state-wide protest tomorrow
Assistant Motor Vehicle Inspectors are preparing for a state-wide protest over MLA MM Mani's statement. The Kerala Assistant Motor Vehicles Inspectors Association has called for a state-wide protest tomorrow. The association has decided to hold a march in the taluk centres. The protestors are demanding that MM Mani should apologize for the statement and allow the officers to work freely.
MM Mani stated that if politics was involved in their job performance, politics would be reciprocated. If any officers fail to adhere to the law, they will face consequences, as stated by Mani. He specifically mentioned that actions would be taken in collaboration with the police, RTO (Regional Transport Office), and the collector.
 
---
4:00 PM: Man dies after falling from construction building in Irinjalakuda
A man was found dead after falling from a construction building on Tuesday( Oct 3). The deceased was identified as Vipin (46), a native of Mala Poyya in Thrissur. He fell from the first floor. He was rushed to the hospital, but his life cannot be saved.
---
3:30 PM: Tribal youth goes missing near Sholayar dam in Thrissur
A tribal youth has gone missing near Sholayar Dam in Thrissur on Tuesday( Oct 3). The missing person was identified as Raghu Parameshwaran (30). He went fishing near Sholayar Dam and was missing from there. The forest police have started an investigation.
---
1:50 PM: Kerala High Court stays allegation case against Lakeshore Hospital in Kochi
The Kerala High Court has stayed the case against the Lake Shore Hospital in Kochi and eight doctors on the complaint of organ donation after reporting brain death. Justice PV Kunjikrishnan's bench stayed the action of the Ernakulam Magistrate Court. The hospital and the doctors approached the High Court questioning the intervention of the Magistrate's Court while the police investigation was ongoing. The petitioners also pointed out that taking action on the complaint 12 years after the incident is against the criminal procedure.
---
1:20 PM: Tamil actor Rajinikanth arrived in Thiruvananthapuram for the shooting of  'Thalaivar 170'
---
12:45 PM: Kerala rain: Orange alert declared in Thiruvananthapuram
Heavy rain continues in the state, Meanwhile, IMD has issued an orange alert in Thiruvananthapuram. The yellow alert continues in Kollam, Pathanamthitta and Alappuzha. 
---
12.00 PM: Folk songwriter Arumughan Venkitangu passes away
Popular folk songwriter Arumughan Venkitangu passed away on Tuesday. He was 65. Also known as the 'Nadanpattukalude Mudichoodamannan' (uncrowned king of folk songs), he penned around 350 folk songs.
---
11:30 AM: 70 fake loan apps removed from play store
The police are taking strict action in cases of suicide due to the increasing credit crunch in the state. Kerala Police has informed  that around 70 fake loan apps have been removed from the Play Store. The police said through its Facebook page that the fake apps were removed from the Play Store by the cyber operations team.
---
10.30 AM: Kerala to continue receiving heavy rainfall today; Yellow alert in 4 districts
Kerala will continue to receive heavy downpours today. The IMD has sounded a yellow alert in 4 districts including Thiruvananthapuram, Kollam, Pathanamthitta and Alappuzha.
---
10.15 AM: Ambulance and pickup van collide in Kollam
An ambulance and a pickup van collided in Kollam on Tuesday (Oct 3). The ambulance driver Muneer was seriously injured. The ambulance was trying to overtake the bus when it hit the pickup vehicle coming in the opposite direction. There was no one else in the ambulance that went to pick up the patient.
---
9:30 AM: Regional meeting will be held in Ernakulam today
A regional review meeting led by the Chief Minister and his cabinet Ministers will be held at Ernakulam Bolgatti Palace on Tuesday (Sep 3). A review meeting for the Idukki, Kottayam, Alappuzha, and Ernakulam districts will be held today. The meeting will start at 9:30 am, and there will be a review of major projects and programmes in the districts. From 3.30 pm to 5 pm, there will be a review of law and order issues attended by police officers.
---
9: 20 AM:  Akhil Sajeev accused of handing over Rs 5 lakh for a job appointment.
A young person from Ernakulam has come forward with a disclosure regarding Akhil Sajeev, who is the main suspect in a case involving extortion of money by promising employment opportunities in the health department. Shinoi, who hails from Thrippunithura, revealed that Akhil Sajeev transferred transactions totalling over Rs 5 lakhs through his account, claiming it was for business purposes. Akhil would transfer money from various accounts into his own. Later, the young man discovered that this money was actually part of a job scam, as reported by Asianet News.
---
8:45 AM: Auto driver attacked in Kozhikode
Kozhikode: A young auto driver was beaten up in Kozhikode on Tuesday(Oct 3) . Shivaji (42) was brutally attacked by a group of people. He was beaten by a rod on his head and body. The police have started the investigation.
---
8.16 AM: Kerala to continue receiving heavy rainfall today
The state is likely to receive widespread rainfall today. Heavy rain is also expected in isolated places. Due to a flood-like situation, educational institutions up to higher secondary level and Anganwadis in Kottayam taluk have been declared a holiday today. Schools running camps in Changanassery and Vaikom taluks are also closed today. 
Last Updated Oct 3, 2023, 4:59 PM IST