Kerala News Highlights: Large cranes unloaded at Vizhinjam International Seaport
Kerala News Highlights: Large cranes being unloaded at Vizhinjam International Seaport.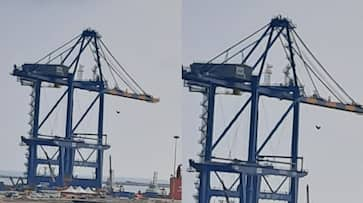 3:00 PM: Large cranes unloaded at Vizhinjam International Seaport
A huge crane is unloading at Vizhinjam International Seaport today. The unloading started this afternoon. It is expected to complete the loading by today itself. The ship-to-shore crane could not be lowered yet as the sea conditions were not favorable.
---
1.30 PM: IMD issues yellow alert in four districts; predicts rainfall in Kerala
The India Meteorological Department (IMD) has sounded a yellow alert in four districts including Pathanamthitta, Kottayam, Idukki and Palakkad. There are chances of isolated heavy rainfall. The IMD said that there is a possibility of rain with thunder and lightning at isolated places in Pathanamthitta and Idukki districts in the coming hours and wind gusting up to 40 kmph.
---
1:00 PM: Leo director Lokesh Kanagaraj suffers leg injury during promotion in Palakkad
The Tamil movie Leo director Lokesh Kanagaraj suffered a leg injury during the promotion event at the Aroma Theatre in Palakkad. He returned to Chennai with a leg injury. Lokesh informed that the press meet scheduled to be held in Kochi has been postponed to another day. Officials informed that other promotional events in Kerala have been cancelled including Thrissur Ragam Theatre and Kochi Kavitha Theatre. Hundreds of fans gathered to meet him which resulted in a leg injury. The police finally had to resort to lathi charge to control the crowd.
---
11.45 AM: Stray dog attacks 5-year-old in Ernakulam
A 5-year-old boy was attacked by a stray dog ​​in Ernakulam Kalady. Josephine from Malayatoor was attacked by the dog. He was bitten on his cheek and hand and was admitted to a private hospital.
---
11.15 AM: West Bengal native found hanging in Cherpulassery
A West Bengal native, Ashok (21), was found hanging in Cherpulassery of Palakkad district. He was an employee at a dry cleaning firm. Three people including his brother live together. As per reports, Ashoka returned from West Bengal two days ago.
---
10.30 AM: Landslide reported in Idukki farm due to rain
A landslide was reported at a farm in Nedumkandam in Idukki. About three-quarters of an acre of land was washed away. 
---
10:05 AM: Man strips half-naked before robbing at theatre in Thiruvananthapuram
A man was arrested for robbery at a theatre in Thiruvananthapuram. The incident took place in a theatre in Attingal, Thiruvananthapuram. The thief was caught on CCTV after a complaint was raised that the purses of two young women who had come to watch a movie were lost the other day. It is clear in the footage that the young man's method is to come first in the name of watching a movie, and after the movie starts, he steals while naked without people seeing him. After being half-naked, the man crawled on his knees and approached the seats of the people who had come to watch the movie.
---
9:35 AM: Mother arrested for murdering son in Kottayam
A mother was arrested for killing her son in Kottayam. The mother killed her son by cutting him with an axe. The incident happened on October 20 when the son came home after being drunk. Anudevan (45), who was injured in the attack, died yesterday.
---
9.00 AM: One dead, several injured in accident on NH in Kozhikode
12 people were injured in an accident on a national highway at Vadakara Madapalli, Kozhikode. The accident happened when the Tempo Traveler fell downhill. Five seriously injured people were shifted to Kozhikode hospitals. The accident happened when they were going to Kasaragod for a funeral from Pala. The other injured are undergoing treatment at a private hospital in Vadakara. The accident happened in the morning. Meanwhile a woman has reportedly died. Three people are undergoing treatment at Kozhikode Medical Hospital. One of them is in a critical condition.
 
---
8:45 AM: Two people injured in lightning strikes in Idukki
Two people were injured after lightning struck them in Idukki. Sunil Kumar and his son Sreenath (14) were injured in Third Camp Moolasseril. Both of them were shifted to Theni Medical College. Sunil has injuries to his head and legs.
---
8.15 AM:  Kerala likely to receive heavy rainfall with thunderstorms today
In remote areas, Kerala is likely to see heavy rain today. The India Meteorological Department predicted thunderstorms, lightning, and gusty winds with a maximum speed of 30 to 40 Kmph.
Last Updated Oct 24, 2023, 4:46 PM IST