Kerala News Highlights: Heavy rainfall continues to lash Kerala; Yellow alert in 5 districts
Kerala News Highlights: Heavy rainfall continue to lash Kerala; Yellow alert in 5 districts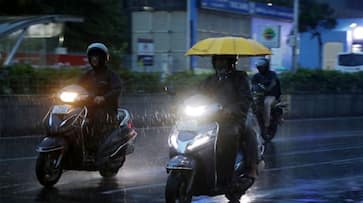 6.00 PM: Family of four hacked by neighbour in Ernakulam; arrested
Four members of a family were hacked and injured by a neighbor near Ernakulam's Kolanchery. Peter, his wife Sally, daughter Roshni and son-in-law Basil were hacked at their house in Ezhupram Meprath. They were admitted to Kolanchery Medical Mission Hospital.  In the incident, Anoop, the son of a neighbor Pappachan, was taken into custody by the Puthencruz police.  According to reports, some issues between both the neighbours led to the attack. Earlier too, complaints were raised against Anoop.
---
3.30 PM: JD(S) Kerala unit declares no support for NDA
Leaders of the Janata Dal (Secular) unit in Kerala visited the party's patron and former Prime Minister H D Deve Gowda in Bengaluru and informed him that they would not support the BJP-led NDA during the political discussion over the party's choice to align itself with it. Deve Gowda reportedly agreed with the Kerala unit's decision, according to JD (S) state president Mathew T Thomas. "We told Deve Gowda that we were not going to ally ourselves with the BJP."
---
2.30 PM: Centre using ED to destroy Cooperative sector in Kerala: M V Govindan
The Kerala cooperative sector is being destroyed by the Centre through the Enforcement Directorate (ED), according to CPM state secretary M V Govindan. The actor and BJP leader Suresh Gopi is preparing to contest in the Thrissur constituency, he continued. They (the Centre) are utilising investigating agencies like the ED and CBI to launch harsh criticisms of the LDF Government in Kerala. They are attempting to eliminate the cooperative sector by employing such strategies. Such measures are being taken to put party leaders in prison, according to Govindan.
---
1.00 PM: Rain update: IMD revises yellow alert in Kerala
The India Meteorological Department (IMD) has revised the yellow alert in Kerala. As per the latest notification, the yellow alert has been sounded in Malappuram, Kozhikode, Wayanad, Kannur and Kasaragod districts today. There are chances of heavy rain in isolated places in North Kerala today and in isolated places in South Kerala tomorrow. 
---
11.30 AM: KSEB disconnects power supply at TVM KSRTC bus terminal
The Kerala State Electricity Board (KSEB) cut off the power to the Kerala State Road Transport Corporation (KSRTC) bus terminal at Thampanoor on Saturday after they failed to pay a Rs 41,000 electricity bill. However, after the payment was completed, the connection was reinstated by the afternoon.
---
10.15 AM: Cement prices to increase by Rs 50 per sack from October
From October, the cost of cement in Kerala will increase by Rs 50 per sack. Currently, branded cement costs between Rs 400 and Rs 410, while non-branded cement costs between Rs 360 and Rs 370, including freight and unloading fees.
---
9.30 AM: Malayali social activist's death in Delhi: Police claims murder; accused unknown
In the death of social activist Sujathan, the Delhi police said it was a murder. FIR under section 302 has been charged. The accused is yet to be nabbed.
Read More: Social activist from Kerala found dead in Delhi, family claims murder
---
9.00 AM: Plus one student allegedly ragged in Malappuram
A plus one student is alleged to have been beaten up by a group of 10 students of plus two in Valanchery VHSS School, Malappuram. The complaint was made by AP Abhinav. According to the complaint, a button on the shirt was open and that led to the altercation. Abhinav's parents lodged a complaint with the Valanchery police
---
8.27 AM: Police vehicle rams into post killing one official in Thiruvananthapuram
A police officer died in an accident near the AKG Centre at Palayam in Thiruvananthapuram. The official of the control room Ajayakumar was killed in the accident. The police control room vehicle lost control and rammed into a post injuring three others too.
---
8.22 AM: Car plunges into river killing 2 doctors in Ernakulam
In a tragic incident, two doctors were killed and three others were injured after the car they were travelling in plunged into the river at Gothuruth on Saturday midnight. The accident reportedly took place at 12.30 am. The deceased are identified as Dr. Advaith and Dr Ajmal of a private hospital in Kodungallur.
---
8.13 AM: Heavy rainfall continues to lash Kerala; Yellow alert in 5 districts
The state has been receiving heavy rainfall and is likely to continue due to the low pressure formed in the Bay of Bengal. The IMD has sounded a yellow alert in 5 districts including Alappuzha, Ernakulam, Thrissur, Kozhikode and Kannur.
Last Updated Oct 3, 2023, 4:58 PM IST