Kerala: Chances of high waves, sea attack today; warning issued
The National Oceanic and Atmospheric Administration has issued a warning of a sea attack and a possibility of 0.5 to 2.0 metres of high wave and strom surge in Kerala and Tamil Nadu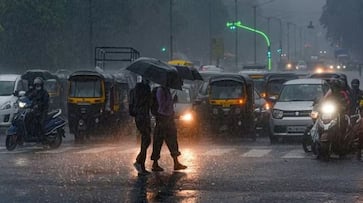 Thiruvananthapuram: A warning of high waves and sea attacks was issued in the coastal areas of the state today(October 6). The National Oceanic and Atmospheric Administration has issued a warning of a sea attack and a possibility of 0.5 to 2.0 metres of high wave and strom surge in Kerala and Tamil Nadu coastal areas until 11.30 p.m. today. Fishermen and coastal residents are asked to be cautious.
As rough seas are likely to intensify, people should stay away from the danger areas as per the instructions of the authorities. Keep fishing vessels (boats, etc.) safely moored in the harbor. Keeping a safe distance between boats can avoid the risk of collision. The safety of fishing equipment should be ensured.
Meanwhile, District Collector Geromic George has announced that entry to all beaches in Thiruvananthapuram district has been banned until further notice on October 4. The action is taken in view of the continuing heavy rains in the district and the fact that the India Meteorological Department and the State Disaster Management Authority announced an orange alert in the district on that day.
The India Meteorological Department (IMD) has predicted that there is a possibility of light rain in all the districts. No special alerts have been declared in any districts. Although the heavy rains in the state have subsided in the last few days, waterlogging is still present in many low-lying areas. Relief camps are running in many places.
Meanwhile, the collectors have declared a holiday today (October 6, 2023) for schools running camps in Thiruvananthapuram and Kottayam districts. District Collector Geromic George has announced holidays for Konchiravila UP School, LPS Vettucaud, and PS Velliyanai schools tomorrow.
Last Updated Oct 6, 2023, 12:00 PM IST