Kerala: Brawl breaks out again at Manaveeyam Veedhi; stones pelted at cops
A clash happened again in Manaveeyam Veedhi in Thiruvananthapuram. The stones were pelted over the police officers during the conflicts.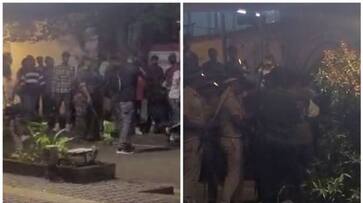 Thiruvananthapuram: A brawl broke out again in Manaveeyam Veedhi at Thiruvananthapuram on Tuesday (Nov 7). A woman identified as Raji, a resident of Nettayam, was injured in the stone pelting. The use of loudspeakers was stopped after 12 a.m. by the police. A group of men arrived in an inebriated state and started to vandalise all the chairs. Later, stones were pelted at police.
Following the conflicts, the police have decided to tighten the security and checks in the nightlife programs. Barricades will be erected on both sides of the road. The police also informed that they would carry out drug tests if they were found to be suspected.
The Rapid Action Force will be deployed in two vehicles after 11 p.m. The case will be filed for creating conflicts, even if there is no complaint. The police also informed that more CCTVs will be installed on Manaveeyam Veedhi. At the same time, the commissioner directed that there should be no unnecessary interference of the police in the nightlife.
Meanwhile, a youth was taken into custody over a clash in Manaveeyam Veedhi on Friday. The museum police arrested Karamana native Shiva in the incident. A young man from Poonthura was beaten to the ground by a group of youths. The Thiruvananthapuram Museum Police has started an investigation into the incident. However, the museum police informed that no one has approached with a complaint. Following the incident, the museum police submitted a report to the city commissioner, demanding no programs be allowed or held after midnight.
The Ernakulam municipal council will discuss the decision to close hotels and other business establishments after 11 p.m. in the Thrikkakkara municipal area today. The decision came after the conflicts at Manaveeyam in Thiruvananthapuram.
Last Updated Nov 8, 2023, 10:17 AM IST