Ktka medical seat scam: Lawyer accuses former deputy CM Parameshwara of minting money; BJP promises action
Nataraj Sharma, the president of Janmabhoomi Foundation, claimed that former Karnataka deputy chief minister G Parameshwara's deemed-to-be-university had sold as many as 16 seats that were allocated to the Karnataka Examinations Authority (KEA) for merit students in the state. Each seat costs anywhere between Rs 80 lakh to Rs 1.35 crore.
Bengaluru: Days after the Income Tax officials conducted raids on several educational institutions that were associated with Congress leader and former Karnataka deputy chief minister G Parameshwara in Tumakuru and many other locations in Bengaluru, a lawyer from Karnataka high court has made some shocking claims. He said that the former deputy CM's deemed-to-be-university has sold as many as 16 seats that fall under the Karnataka Examinations Authority (KEA) quota in Sri Siddhartha University.
The lawyer, Nataraj Sharma, also the president of Janmabhoomi Foundation, submitted a complete document (which Asianet Newsable is in possession of) to the chief minister's office and has placed a request to initiate an investigation into this multi-crore medical seat scam.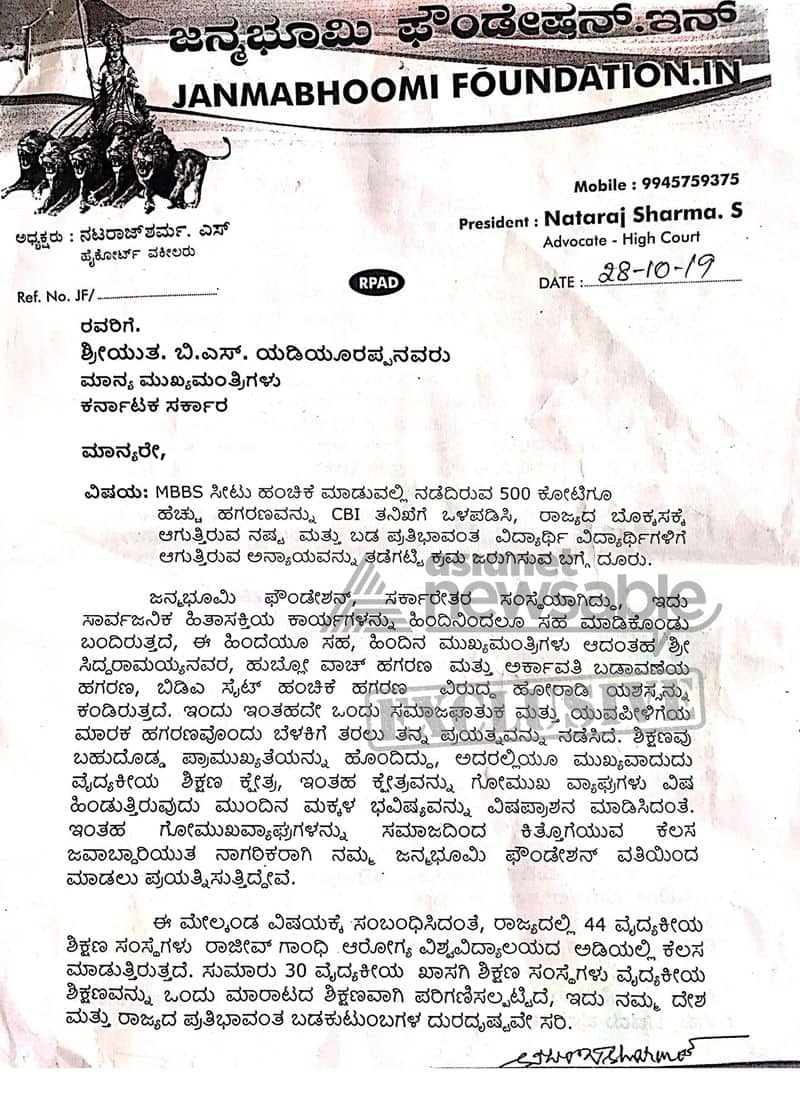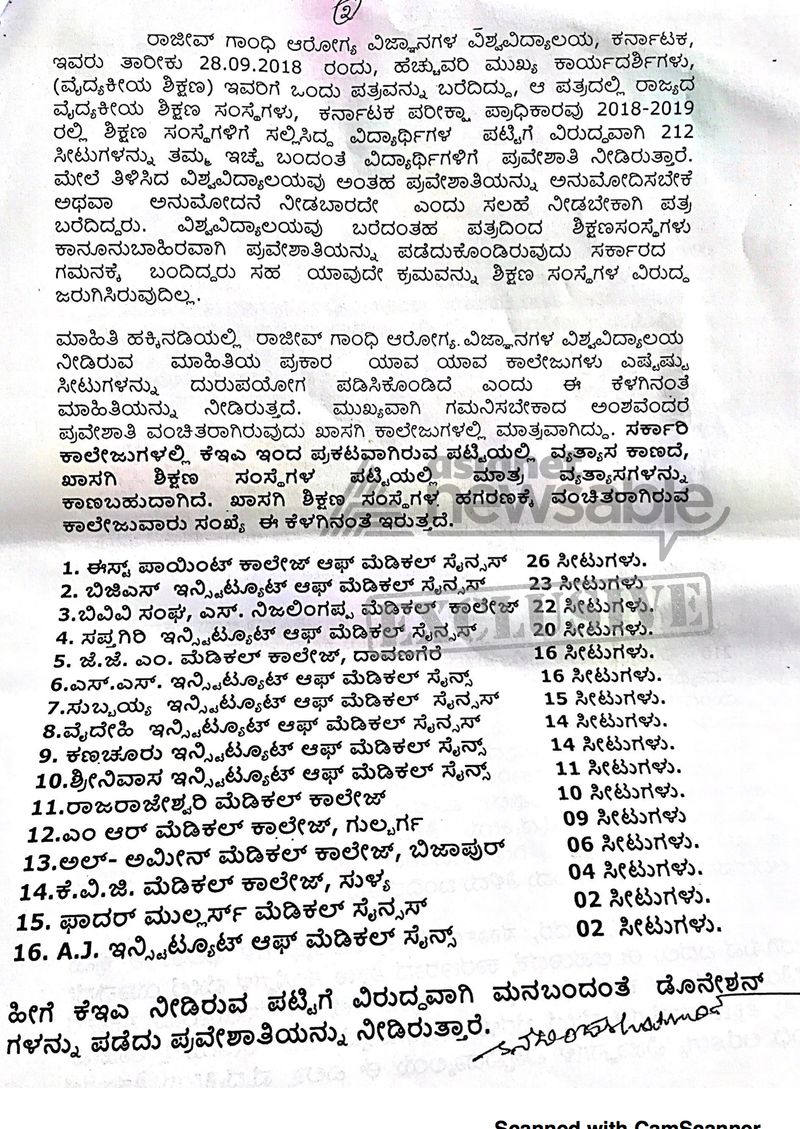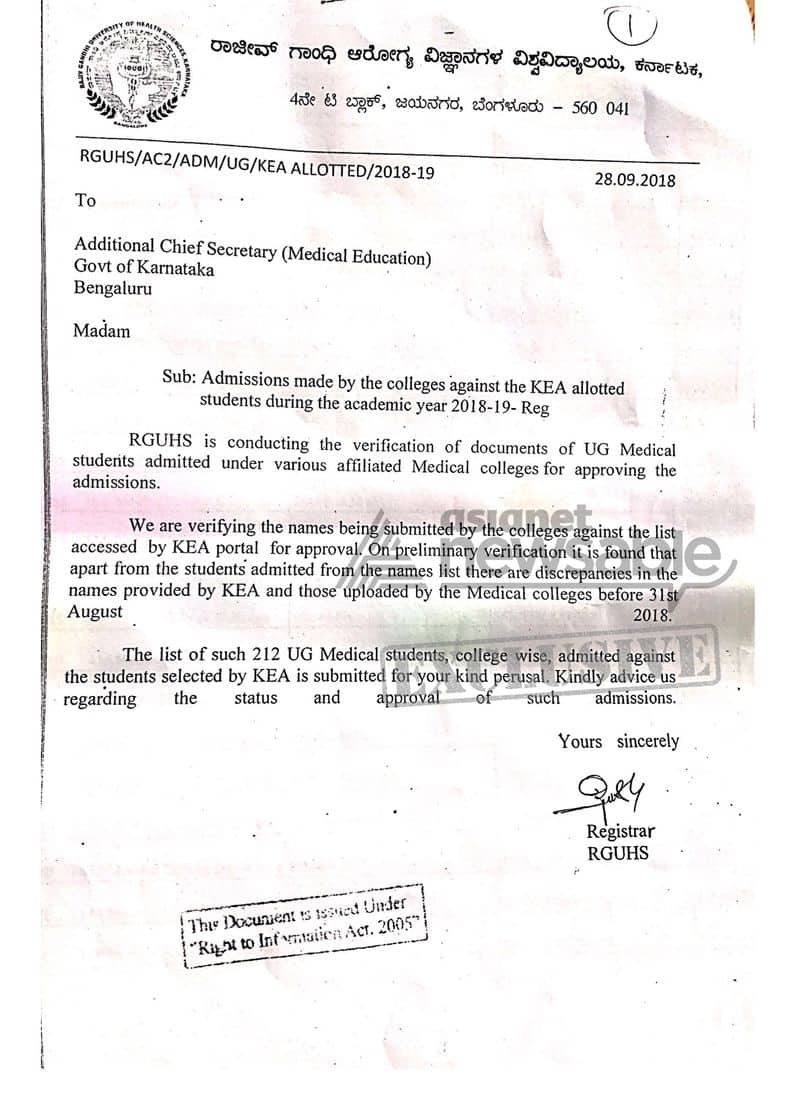 Speaking to Asianet Newsable, Nataraj Sharma said that as many as 210 medical seats have been sold to other students under the KEA quota in Karnataka in the academic year 2018-19, and 249 seats have been sold in the year 2017-18. He further said that CM Yediyurappa has considered to take up this issue and has forwarded the same to the concerned department for verification.
According to law, the college management is allowed to admit candidates only from the merit list provided by the KEA. The Rajiv Gandhi University of Health Sciences (RGUHS) in Karnataka has reportedly stopped the examination for such students and has sought an inquiry.
In 2018-2019, RGUHS reportedly found 211 such admissions done outside of the KEA list and has kept their enrolment on hold.
Also, according to Sharma, East Point College of Medical Sciences in Bengaluru has reportedly sold 28 medical seats under the KEA quota. This medical college is touted to be linked to Congress leader Mallikarjun Kharge.
According to Nataraj Sharma, each seat has been sold for anywhere between Rs 80 lakh to 1.35 crore. With this, the students topping the merit lists, and also those hailing from the economically weaker families have found it difficult to get admission in these colleges, Sharma added.
Karnataka deputy chief minister and medical education minister Dr CN Ashwath Narayan spoke to Asianet Newsable and said, "Based on the conceptual agreement, which is after the mopped up roles, the seats have been given to the colleges and management to fill up the medical seats. After the Income Tax raids, lots of questions have been raised about the transparency and accountability of the college management whether these claims are valid or not. Some have even filed petitions with our government."
"I think we all are accountable, and we need to be responsible. We are willing to address the issue. Presently, Income Tax officials are dealing with the issue, and we will come to know more leads about this," the medical education minister added.
Karnataka Congress leader Dinesh Gundu Rao said that while the raids are on, these allegations point to "misuse of power and subversion of democracy". "Let the investigation be done. And if anything is proven, let action be taken," he added.
On October 10, the Income Tax sleuths had conducted raids at around 30 premises linked to Parameshwara and recovered Rs 4.52 crore. This raid came after the I-T officials found irregularities in medical colleges run by a trust related to the former Karnataka deputy chief minister.
Last Updated Oct 31, 2019, 3:53 PM IST