Karnataka forest staff shoots wild elephant, video catches Randeep Hooda's attention
Video of Karnataka forest department official shooting a wild elephant has gone viral. The incident has raised questions regarding the commitment of the government towards saving wildlife and forests.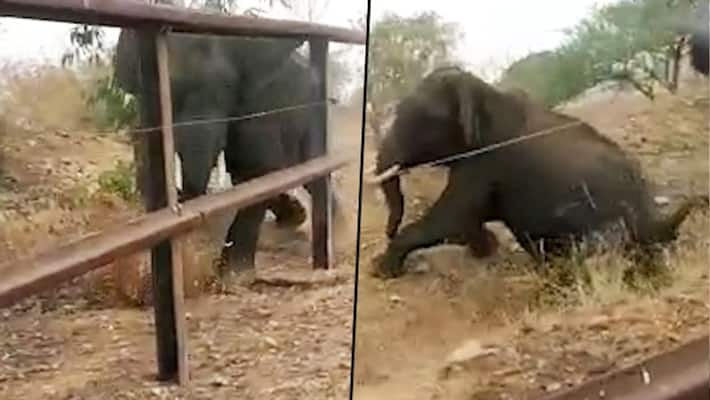 Bengaluru: A shocking video of a wild elephant being shot by forest staff is going viral on social media. However, the top official said, the Rapid Response Team (RRT) was only trying to chase the wild elephant back into wilderness and "accidentally" fired at the elephant.
Punathi Shridar, principal chief conservator of forest (PCCF), told Asianet Newsable that there are 15 members of the Rapid Response Team operating in Karnataka forest areas. And the team's task is to ensure the wild animals are chased back into the wild, while they keep an eye on poachers.
On March 7, when the team was patrolling Bandipur National Park, a forest staff on contract, Rahim, was holding a gun that fired at the elephant. Rahim is now suspended. And another staff Umesh, who filmed this, is summoned for questioning.
"
Meanwhile, the PCCF has said that upon investigation, they have come to know that the staff was driving the jeep when the elephant was also running amok, and the effort was to bring the wild elephant back into the forest.
 "To stop the animal from coming out of the forest, the RRT was making its efforts. In the video, you can see that the incident happened while the jeep was moving. It was an accident as the staff who use the gun to scare by shooting in the air, was holding the trigger and due to the sudden movement, it accidentally fired. Had he deliberately shot at the elephant, the animal would have fallen. Yet, we have taken action against the staff," said the PCCF.
As the video went viral, many netizens expressed their anger. One among them was Randeep Hooda, who asked the officials to take action against the staff.
Last Updated Mar 13, 2020, 1:00 PM IST