Karnataka Congress' Fact-Finding Committee blames coalition with JDS for govt's failure
The 63-page report by the Fact-Finding Committee has revealed that the decision of an alliance made voters shift their focus from the Congress and the JD(S) to the BJP.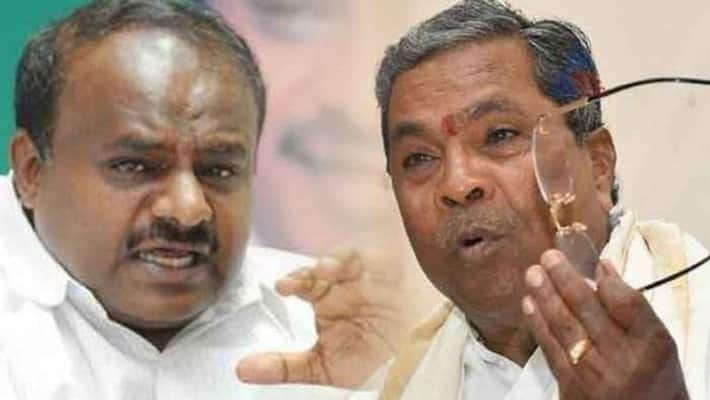 Bengaluru: Karnataka Congress' Fact-Finding Committee (FFC) has blamed the party's decision of allying with the JD(S) for its loss in the 2019 Lok Sabha polls.
In its report submitted to state Congress chief Dinesh Gundu Rao, the panel has stated that anti-incumbency against the Siddaramaiah-led Congress government was not the reason for the party facing a setback in the 2018 Assembly polls, and cited issues like religion and personal grudges of particular leaders.
Speaking to a reporter on this regard, Karnataka Congress working president Eshwar Bhimanna Khandre said, "The reports that have been submitted is still in the preliminary stage. I have not gone through the reports yet. After that, I will discuss it with the party leaders."
"One thing is for sure that Congress' Fact-Finding Committee has done exceptional work by going to all the localities to find out the truth," he added.
The reports stated that apart from Shivamogga, Hassan and Bengaluru rural constituencies, the 22 constituencies in the state have not witnessed any friendship or co-operation between JD(S) and Congress from booth, block and district levels. The committee is of the opinion that people were not in favour of the coalition government and their infighting.
The report highlighted that, in 2018, Congress secured 31.56% votes, JD(S) 9.78% making it a total of 41% of voters in the state. The reports also pointed out that the BJP got 16% votes more in the Lok Sabha when compared to the 2018 Assembly elections which indicate that JD(S) voters did not vote in favour of the Congress. 
The committee also observed that JD(S) workers never backed Congress candidates during the Lok Sabha election.
The committee has cited consolidation of Linagayat votes against former Prime Minister HD Deve Gowda for his defeat in Tumakuru and the dynasty politics of the Gowda family for his grandson Nikhil Kumaraswamy's defeat in Mandya.
An internal rift between party leaders led to senior Congress leader KH Muniyappa's loss in Kolar Lok Sabha seat, the report observed. HD Deve Gowda and Nikhil Kumaraswamy were Lok Sabha candidates from the JD(S), who were backed by the Congress, the report added.
In its 63-page report, which was a result of a three-month-long tour across the state to garner inputs from all committee members of Assembly constituencies, the FFC made several suggestions aimed at strengthening the organisations within the party including mode of selection of office bearers. 
Last Updated Oct 3, 2019, 2:35 PM IST