Karnataka Cabinet expansion: 'Right' math by Yediyurappa may make Mahesh Kumatahalli miss the bus

The Karnataka government is all set to expand its Cabinet by giving posts of heads of additional departments to Congress-JDS rebels who joined the BJP, due to compulsion. Athani MLA Mahesh Kumathalli may not be able to make it into BS Yediyurappa's Cabinet. As Gokak MLA Ramesh Jarkiholi intensifies his demand for a Cabinet berth, the BJP may just cave in.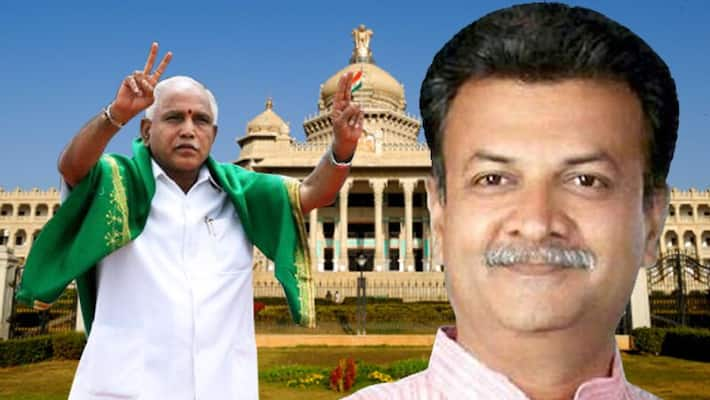 In two days, Congress-JDS rebels who quit and joined the BJP and then made it through the by-elections may find a place in the BS Yediyurappa Cabinet. However, Belagavi politician and Athani MLA Mahesh Kumathalli who is hopeful, may not find a place due to the 'right' calculation.
As the BJP has already made a defeated BJP candidate Laxman Savadi as deputy CM due to pressures of the high command, it is unlikely that he will be dropped. With pressure from Umesh Katti of Hukkeri and Ramesh Jarkiholi who rocked the Congress-JDS government and ensured it was decimated demanding a post in the irrigation department, the BJP may not be able to take all aspiring MLAs from Belagavi region into the Cabinet.
Sources say that Kumathalli may be kept out.
"Kumathalli is a staunch follower of Ramesh Jarkiholi and the BJP may ask his patron Ramesh to take control of the situation and speak to Kumathalli, to make him settle for the post of chairman of the board for a government corporation." said a source
BJP trying hard to take Katti into confidence:
Kumathalli continues to make an emotional appeal and remind BS Yediyurappa of the CM's promise of making him a minister, during the election campaign in Athani. But all the while, the BJP is working out a strategy to convince him to think otherwise. Few leaders say BSY will succeed in taking everyone into confidence.
While Katti has been making several rounds to Yediyurappa's home in Dollars Colony in the hopes of becoming a minister, the BJP is also trying to convince him by talking about the sacrifices made by rebels from the Congress and JD(S) camp by quitting their parties.
"I will be happy if more MLAs from my home district Belagavi are made ministers. But we need to understand the sacrifices made by these leaders from Congress and JD(S). Today we are in the government only because of these leaders," said Prabhakar Kore, Rajya Sabha MP.
The leaders also expressed confidence about BS Yediyurappa gaining the confidence of those long-standing leaders from the saffron party who seek a Cabinet berth. 
Last Updated Feb 4, 2020, 5:50 PM IST