Karnataka by-polls: Hostile Hunsur Congress - BJP candidates skip greetings during face-off at Sai Baba Mandir
Congress and BJP candidates (HP Manjunath and H Vishwanath) faced each other in the Sai Baba temple in Hunsur before the political face-off at the polling booth. The rivals did not greet each other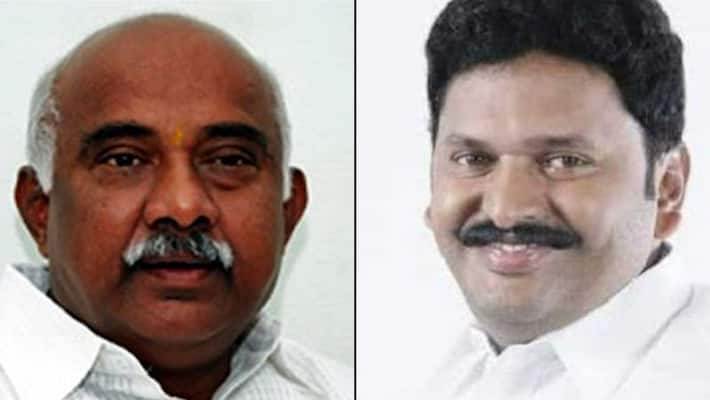 Bengaluru: Bypolls are underway in Karnataka in 15 constituencies including Hunsur. In an interesting situation, two hostile leaders' face-off at a temple became a proof to the extent of rivalry between the two.
BJP candidate H Vishwanath and Congress candidate HP Manjunath faced each other at a Sai Baba temple in Hunsur. Both are contesting from Hunsur constituency. The hostile leaders went into the Sai Baba Temple to pray before casting their votes.
However, though both entered the temple at the same time, they did not greet each other nor their supporters had any conversation.
BJP candidate Vishwanath visited the temple with wife and daughter. Whereas Manjunath paid the visit with his supporters.
Vishwanath is one of the disqualified MLAs from JD(S) party. He has now joined BJP. Whereas Manjunath had tried for a ticket from the party in the Assembly elections, but was not given due to agreement between JD(S) and Congress in the pre-poll alliance.
According to the agreement, JD(S) candidate H Vishwanath was given ticket during the Assembly elections in May 2018. 
Last Updated Dec 5, 2019, 11:26 AM IST