Karnataka Budget 2020: What will happen to Rs 8,772 crore set for Bengaluru?
Karnataka Budget has earmarked a portion for Bengaluru's development. From road restoration, solid waste management, increase in sewage treatment plant capacity, comprehensive lake development plan to 56 km long Outer Ring Road connecting airport metro and Central Silk Board junction and much more are on offer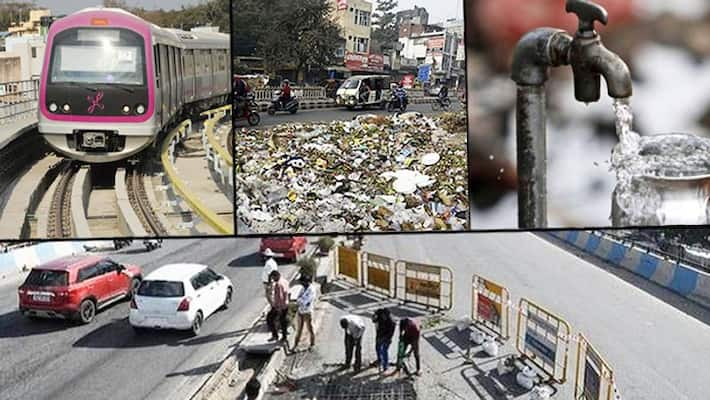 Karnataka CM BS Yediyurappa's seventh Budget focuses on Bengaluru development. As Bengaluru has over 15 BJP MLAs, the BJP wants to impress voters with development work. As a result, Rs 8,772 crore has been allocated for the city's development for the fiscal year 2020-21.
Garbage, water, road restoration top priority
As the city is still reeling under the garbage menace, pothole-ridden roads and water shortage issues, the CM announced the implementation of an action plan with a grant of Rs 999 crore for solid waste management of Bengaluru city under "Shubhra Bengaluru Scheme" and a grant of Rs 1,000 crore for the restoration of deteriorated roads of 110 villages merged in Bengaluru city in the next two years. Completion of the 5th phase of Cauvery Water Supply Scheme at an expenditure of Rs 5,550 crore by the end of 2023 has also been announced.
As sewage entering lakes is still not solved, there is water scarcity issue creeping into the city. Wastewater treatment capacity of Bengaluru Water Supply and Sewerage Board to reach 1587 million litres by end of 2020-21. This has been announced. A grant of Rs 1000 crore for rejuvenation and modernisation of old sewerage treatment plants has also been announced.
Lakes and storm water to get a facelift
Under CM's Navanagrothana scheme, allocation of Rs 417 crore for comprehensive development of lakes of Bengaluru city will be taken up and the project is "Shubhra Bengaluru".
This apart, a grant of Rs 200 crore to fill the missing gaps in the major storm water drain network of Bengaluru city comes as a boost to address the floods during monsoon.
With frequent power cuts in the city during summer, establishment of a new "Waste to Energy" power generation centre of 11.50 megawatt capacity in Bidadi of Ramanagara district at an expenditure of Rs 210 crore by Karnataka Power Corporation Ltd will come up. This will be in partnership with Bruhat Bengaluru Mahanagara Palike (BBMP). 
Ease traffic and provide better transportation
As transportation is a big challenge, 56 km long Outer Ring Road – airport metro from Central Silk Board junction to Bengaluru International Airport at an estimated cost of Rs 14,500 crore will be taken up and work on 12.8 km metro line on Mysore road up to Kengeri and Kanakapura road up to Anjanapura cross will be expedited.
A grant of Rs 500 crore for the development of roads that witness traffic congestion in the jurisdiction of Bengaluru city through Karnataka Road Development Authority.
To give a push to sub-urban train project connecting Byappanahalli – Hosur, and Yeshwanthapur- Channasandra, Rs 500 crore will be released as state's share.
2390 new buses to be added to the fleet of Bengaluru Metropolitan Transport Corporation under different schemes of Government of India and State Government. Implementation of 'Underground Vehicle Parking' project in congested areas of Bengaluru city with private-partnership.                     
Women restroom facility in select government offices under the "Bengaluru Smart City" project.
Establishment of 4 electric crematoriums in different parts of Bengaluru. Pressing of "Electric Bike Taxi", implementation of 'Underground Vehicle Parking' project in congested areas and installation of optical fibre to provide high-speed internet connectivity to all consumers in Bengaluru city are some of the other takeaways for city.
Last Updated Mar 5, 2020, 5:35 PM IST